The L Word is coming! And not a moment too soon, I might add.
As an armchair "The L Word" philosopher and Sapphic Scholar, I've found myself combing through the series for the last 10 years in acute anticipation. I am beyond titillated! In my opinion, the reboot cannot come soon enough. I feel like a queer Tom Hanks in the movie "Castaway" but, instead of an old volleyball named Wilson, I've been having animated confessionals with an extremely overdue library box set of "The L Word" DVDs that I call Gabby Deveaux (she's Alice's evil ex—look it up). In fact, the other day, one of my roommates caught me talking passionately to myself in the mirror about Bette's dad's ties. It's clear that I'm broken in ways only a "The L Word" reboot can fix.
It's so on my mind that I was scrolling Instagram the other day and started to think of high-octane "The L Word" moments and what beauty trends they reminded me of. There have been some truly insane scenes and plotlines on that show and their origins, to me, seem not entirely dissimilar from some of the more radical beauty regiments trending on the internet. So, without further ado, here are some truly wild "The L Word" moments paired with some truly wild beauty trends!
THE L WORD MOMENT: Jenny Gets a Bad Review (RIP Sounder I)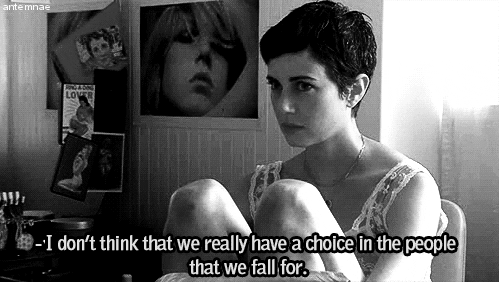 Remember when Jenny was intimately interviewed by Stacy Merkin? Well, suffice to say, "Some of Her Parts" by Jennifer Schecter did not contain any parts that Stacy Merkin liked. She hated it so much that Merkin seemed to take the book as a personal assault against herself and her girlfriend Lindsay LONG before she ever met Jenny and to have, sight unseen, coordinated a vendetta against Jenny WAY before Jenny even thought to euthanize a dog in an attempt to deflower AND, by that way, delegitimize Merkin's supposedly saint-like girlfriend. If that all sounds coo-coo to you…well, get in line.
TRENDS: Kaimin Mohawk Merkins and Paris Hilton Wearing Her Dog As A Handbag (RIP Tinkerbell)
View this post on Instagram
It calls to mind the super punk Mohawk Merkins of the South Korean fashion label, Kaimin. The feminist designer premiered those kooky caps at New York Fashion Week last year and paired them with über structured iridescent metallic jackets and drapes that matched the carpets *wink, wink*. I wonder if Stacy Merkin wears one when she writes her convoluted soul-crushing reviews of the contemporary lesbian memoirists du jour. If she does, she could totally hide the sparing notes she's lackadaisically written from all the unnecessarily probing interviews she's conducted over the years in that giant spiked bush of hers.
If Merkins aren't your thing—don't worry! You could always pay respects to one of the most legendary HBICs (Head Bitches In Charge) to ever grace the pages of People magazine: Paris Hilton's late canine bestie, Tinkerbell. In the early 2000's, Tinkerbell was literally EVERYTHING, and she was never caught out of the house without her ultra-glamorous designer dog carriers, AKA the ones that her owner wore as handbags. Talk about a fashion statement. Jennifer Schecter wishes she was this ego-maniacal and self-indulgent. Woof, Woof! But, seriously, this dogs-as-handbags thing is the perfect lesbian trend, because it pairs a lot of lesbians' most favorite thing (pets) with their least favorite things (purses, expensive feminine accessories). So, go for it! The way I see it, a dog is a blessing and a purse.
THE L WORD MOMENT: When Alice Got Into a Car Chase With Dana
Unpopular opinion alert: I HATE Dana. That being said, I respect the love that Alice and Dana had together. I especially respect the parts of their love that included Alice going off the rails, building an obsessive shrine, pill-popping, and chasing Dana down with her car. The car chase in question was really amazing because they were both on their cell phones yelling at each other the whole time. Dana was, of course, yelling at Alice to "Please, Stop!" chasing her in her car, while Alice was screaming out the window to Dana, "YOU DID THIS DANA! YOU DID THIS! I DIDN'T LEAVE YOU!" Yikes! Alice was wearing this incredibly cute happy face hair clip the whole time that has haunted my dreams every day since I first saw it. I need that hair clip to finish being gay with. I will not be complete as a gay until it is mine.
TREND: Oversized Super Cute #HairClips on Grown Ass Grown Ups, Moschino Pill Bags, and Therapy
View this post on Instagram
My personal favorite type of queer femme fashion is when I get to dress like a little girl in a public setting or wear garish accessories that are super mega-glitzy and controversial. In the show, I think Alice's use of cute little barrettes was supposed to signify that she was losing it and not taking care of herself, but I beg to differ. Wearing cute hair clips in public is totally queer femme self care like nothing else. Then, of course, there's the self-medicating she was doing—which I obviously can't condone. However, I can condone these adorable and very chic Jeremy Scott for Moschino pill-themed bags. In fact, I might even say I'm addicted to them. You can pair this trend with a trip to the gay therapist's office so that you can talk through all the excess emotional baggage of your past relationships with someone who can actually help you manage your existential queer feelings. Contrary to popular belief, though briefly distracting, retail therapy is not exactly the best therapy money can buy. That being said, we're just window shopping anyway.
THE L WORD MOMENT: Bette & Tina Getting Back Together

I don't know about you, but I don't personally hold the belief that Tina Kennard is Bette Porter's true love. To me, it feels really implausible given her lack of personality attributes and general style. In fact, when they got back together in Season 5, iconically making out to Alice Smith's "Dreams" in one of the lush VIP rooms at She Bar, I truly felt like I was hallucinating or somehow accidentally ripped a small whole into the space-time continuum and fallen into some other intergalactic timeline entirely. I didn't exactly know if I was happy or sad about it—I just felt disturbed. The same feeling lingers even now, roughly 11 years later. It even seemed really upsetting to Bette and Tina, who were weeping in each other's arms as if embracing at a funeral. Of course, it was cosmically bound to happen in much the same way that any terrible makeup trend is always sort of reminiscent of or familiar to what we know to be indisputably cute or colloquially attractive.
Trends: Squiggle Brows and Squiggle Lips
View this post on Instagram
Bette and Tina's reunion honestly reminded me a lot of when Squiggle Brows and Squiggle Lips were trending on Instagram. It sincerely felt like various beauty blogs were doing all these tutorials on how to make your makeup look categorically upsetting to people. Yet, there is something beautiful about it. The squiggles have a sort of maleficent magnetism and, although their displacement on the face is eerily psychedelic and disorienting, the presence of a distorted image of beauty on a very real human face operates as a pretty astute like nihilistic take on what makeup is even about.
Plus, it proves, against everyone's best interest, that symmetry is not the great equalizer we might've once thought it to be. It shows us that the symmetry that we strive for when making up our faces to look more like Kardashians—or whoever is your preference to emulate—can be cruel and perverse by the same hand. It's a necessary reminder of the pitfalls of vanity, and it bucks against the entire point of Instagram (which is probably a healthy thing for it to do). Of course, a Bette and Tina reunion was also cosmically bound to happen and was sort of beautiful in its earnestness. It reminded us that life is cyclical, and you never get over your first love—however wrong for you they might have been. 
The point is: we will soon have a "The L Word" reboot on our hands. I, myself, have been hibernating and intensely analyzing all the old episodes in relation to the many Pat McGrath glitter lip kit makeup advertisements I've been subjected to on Instagram. It keeps the mind sharp. Sure, we can attempt to ignore the phenomenon of "The L Word" returning like a solar eclipse blocking out all the warmth in the world and making our dogs act weird, OR we can turn towards the sun, look straight into the eclipse, and be temporarily blinded by our own curiosity. I myself am deeply excited to throw caution to the wind and do "The Tango Ilene" once more. One thing's for sure, though: we here at GO will have you covered with all "The L Word" themed content. We. Are. Obsessed. (Obviously.)