Happy Snow Day, queers! Are you snowed in with your girlfriend? Are you planning to have sex and cuddle all day? Good for you. You can stop reading now.
But if you are snowed in ~by yourself~ it might be a little harder to pass your time. That's where I come in.
I am hardcore PMSing and it's a damn good thing the only living and breathing entity around me today is my pet Schnauzer Greta because I am not emotionally or mentally stable. BUT that instability is the best time to get in touch with myself — so pour yourself a glass of red wine (you deserve it), put on fuzzy socks and an oversized t-shirt, and allow me to be your guide to have the best Super Sapphic Solo Snow Storm.
1. Binge watch The L Word.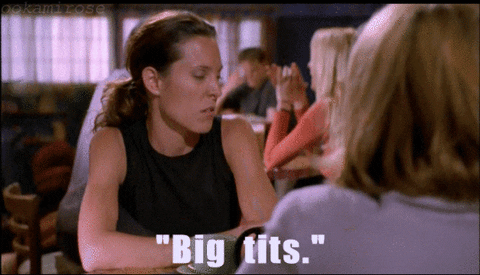 I mean, duh. Revisit your closeted queer adolescence and watch it with your bedroom door locked, in secret.
2. Enter an 8 hour masturbation rabbit hole.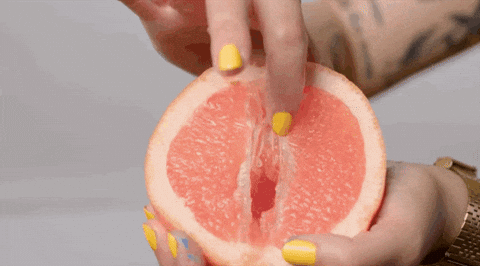 Do you get into one of those masturbation rabbit holes where it's literally been hours and you're not even sure if you're into anymore but you literally cannot stop masturbating? You can't leave the house so, like, why not? Today is the perfect day to get in touch with your body and give yourself some pleasure. Why not make it extra sexy? Light some candles, have some wine, put on what makes you feel sexy and enjoy. I think you deserve at least 8 orgasms. I'm writing this with my favorite LoveHoney Luxury Vibrator staring at me from my dresser. Brb.
3. Be extra gay and write a ~poem.~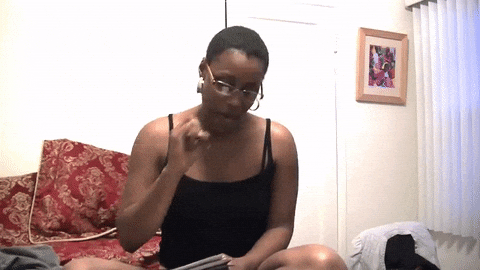 Queers love poetry. Before I became a professional lesbian, I was a creative writing professor. One of my favorite writing exercises was to tell my students to write the sentence "I am made of many parts" then list three concrete nouns. The more specific you are, the more fun it is. Here's an example:
I am made of many parts
Urban Decay Eyeliner, Sparkling Rosé, Strappy Lingerie
I am made of many parts
My mother's cooking, Long Island Strip Malls, L Word reruns
I am made of many parts
Exponential Uber Bills, Thai Calamari, Spray Tan
And voila! You have a poem. Now you try.
4. Half ass a vision board about your future goals including but not limited to a Sarah Shahi look alike girlfriend, and millions of dollars.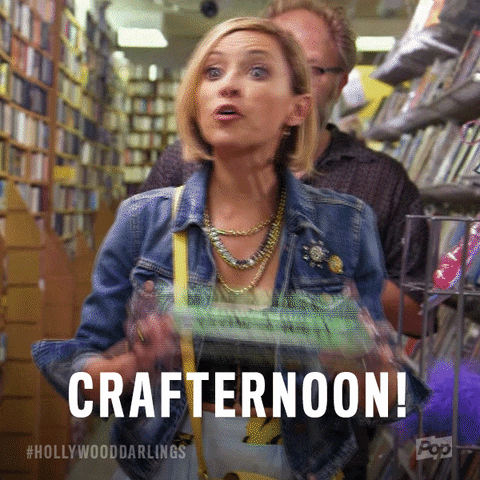 This is cheesy AF and I usually DESPISE crafts and activities but something about being cooped up in your apartment alone makes the perfect time for a vision board. You're by yourself. Focus on the stillness and the silence of the storm. (JK if you live in New York you're focusing on sirens and cars and your neighbors blasting shitty techno music). Try to focus on what you want.
You can cut pictures out of magazines you have lying around and organize them together to represent what your future goals are. Or if you're lazy like yours truly, you can simply write them down. I found a vision board I made when I was 18 stuck in my childhood bedroom — my goals were to be a full-time writer, have tattoos (v. frivolous but IDC) and live in a lesbian populated city. *sheds dyke tear* And I made it happen! Now your turn.
5. Watch Blue Is The Warmest Color and be really conflicted between being painfully turned on and emotional AF.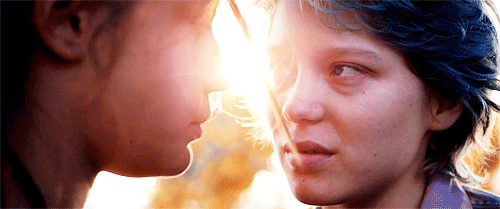 This movie is *problematic* but is also, in my opinion, a cinematic masterpiece! It is the perfect film to watch on a snow day. It's melancholy, romantic, and heartbreaking– just like the snow. I shouldn't have tried to write a poem because now it's turning all my jokes into bad metaphors. But anyway watch this movie and cry your eyes out. You'll feel better after.
6. Shop to fill your emotional voids!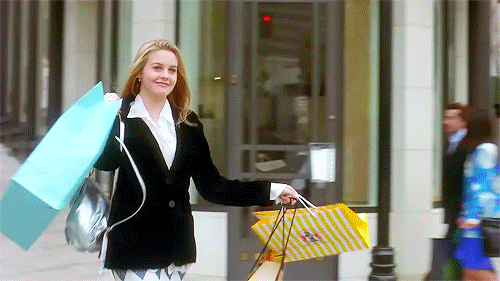 I do this everyday whether it's snowing or not, but you should take this time to peruse some sexy websites and get yourself a new outfit for The Dinah's white party. Or for the gay club this weekend.
7. Swipe till your thumb falls off.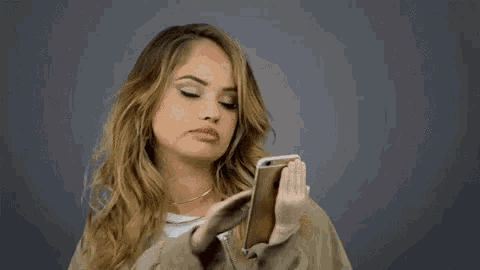 I met my girlfriend furiously swiping through Bumble during our last massive snow storm. I actually took the time to have a meaningful conversation (we talked about The L Word's oil wrestling scene, obviously) beyond hey-what's-up-not-much-you because I wasn't rushing around like a maniac. I was straight chilling on my couch. Take this down time as an opportunity to connect with a potential bae. And what are you doing with your snow day is a perfect conversation starter.
8. Find your future wife on Herstory Personal Ads.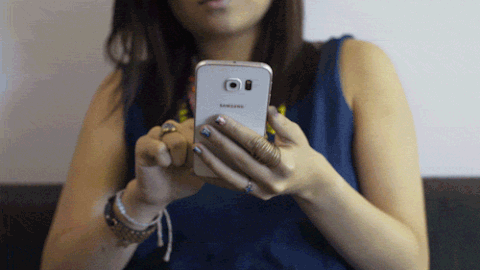 If you haven't read these incredible ads, you are missing out, dear lez. Enjoy all the wit, humor, naughtiness, and romance of hot queer babes across the globe. And if you come across an ad that makes your heart flutter, send her a message.
9. Make a queer-ass meal.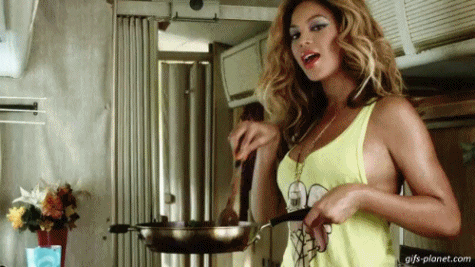 I Seamless my life away and go out to dinner all the time (no I can't keep up with my lifesyle and IDC) so I can't give you much advice here but if you like to cook, make something lesbian like, I don't know, quinoa?
10. Scrounge up some herbs from your pantry, put on Fleetwood Mac, and perform a ~spell.~ .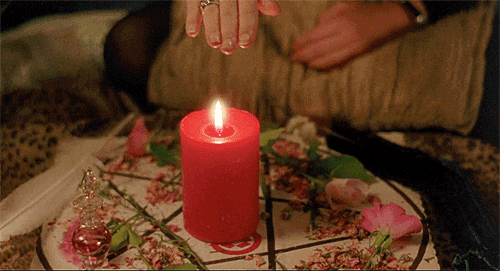 I recently spoke to Jaya Saxena, co-author of Basic Witches, and she walked me through a few fabulous spells. And they are way easier than you might think! Here's one of my favorites: Draw yourself a bath. Don't read a book or listen to music. Just be alone with your thoughts. Focus on the sensation of being cradled and supported by the water. Repeat this phrase: as now so forever as alone so with others. That's spell talk for remembering how you feel in the bath, and wanting the same thing from yourself and future partners. It's setting your intention to get nourishment out of relationships. No weird potion or rat tails needed.
11. Listen to old Tegan and Sara and then text your ex-girlfriend.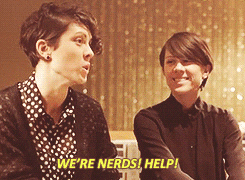 If you haven't cried and scream-sang "Nineteen" in a while, being holed up during a snowstorm, now is the perfect chance.
12. Clean your filthy apartment.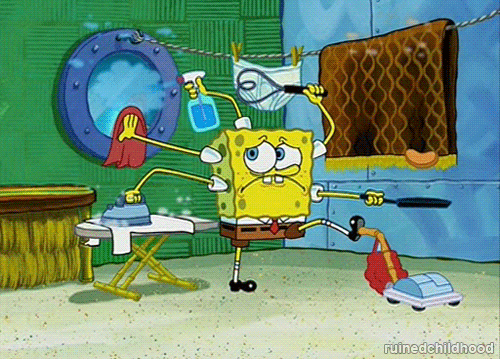 Seriously. Do your dishes. You don't want the girl you take home from Cubbyhole this weekend to see that.
13. Call your grandma. She's v lonely.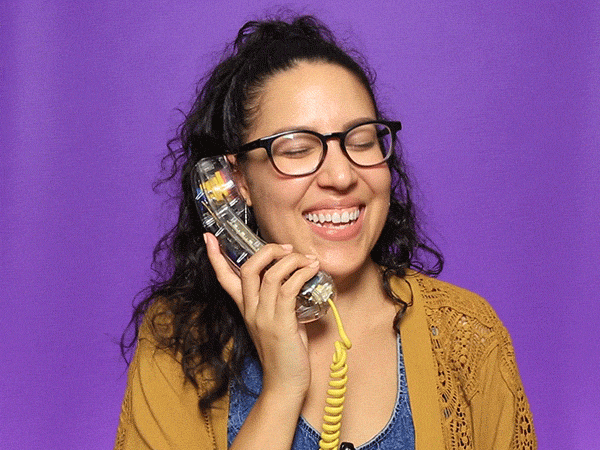 Theoretically, this is really sweet but if you're too focused on The L Word or masturbating I totes understand.
14. Get super dolled up and take a thirst trap.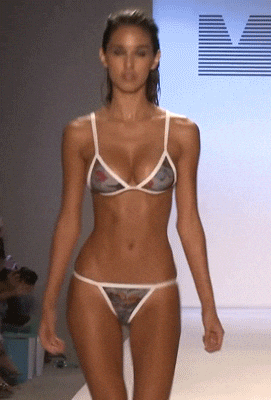 This is by far my favorite snow day activity. There is something oddly liberating about getting super dressed up to go nowhere. It's an act of ~self care~ as they say. Contour your face. Give yourself a poppin' ass highlight. Slap on some lipgloss and lingerie. Admire yourself in the mirror. And flex for the 'gram.
15. Drop that ass to the floor.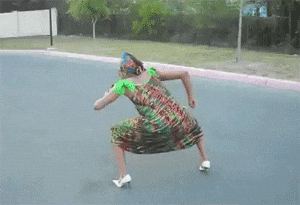 If the snow has got you down (and trust me, girl, seasonal depression is REAL) why not fire up a turnt playlist and dance like no one's watching? Because no one is! So practice twerking and don't worry if you look like a total idiot.
Happy snow day dykes!