It's the middle of summer, and much like Lana Del Rey — summertime sadness has started to kick in. That means you need something new to binge watch into the wee hours of the night to keep yourself from anxiety spiraling, we get it. We've all been there, babe.
You spend hours browsing online streaming platforms you're paying for but can't really afford (us too), and by the end of it, you still don't know what the hell to choose. Then instead of having a ~cultural experience~ and trying something new, you watch the same episode of Sex and The City you can practically recite you've seen so many times. Then, instead of actually watching, you stare at your phone for 30 minutes. Womp. Well, not anymore, babe.
We narrowed down the best gay AF content currently streaming so you don't have to go searching. Below are 14 LGBTQ shows and films that are GO-approved. Stop browsing and start binging!
"Pariah"
I have chill about a lot of things in life, but not about "Pariah." It's the lesbian film I love the most, and I'll sing its praises to anyone who's willing to listen. This 2011 feature really delivers with a story that so many young lesbians – especially those with families steeped in religion – can relate to. It's a coming of age tale about a young, closeted Black woman who is searching for love while dealing with a religious mother who will only accept her if she's feminine and straight. The whole cast is great, but especially Adepero Oduye as Alike; Pernell Walker as her cute butch pal, Laura; and Charles Parnell as her father, Arthur. This film was directed by Dee Rees, who went on to make the Oscar-nominated "Mudbound."
Currently streaming on Amazon, Netflix, iTunes, YouTube, and Redbox
"Ruthie & Connie: Every Room in the House"
This 2002 documentary about Ruth Berman and Connie Kurtz is an adorable, funny film, that is now also bittersweet in light of Kurtz' recent passing. Ruth and Connie did what Jewish women of their era who lived in Brooklyn were supposed to do – they got married and had children. Then they fell in love with each other. The story could have ended right there and it still would have been a good movie, but these two used their voices to fight for others in the queer community. In 1988, they were involved in a lawsuit that ultimately encouraged New York to give domestic partners health benefits. In 2011, they were finally able to get married, two days after same-sex marriage was made legal in New York. #CoupleGoals right here, y'all.
Currently streaming on Kanopy and YouTube
"Orange is the New Black"
The wildly popular "Orange," based on a true story of a woman who did in fact go to prison after becoming involved in drug smuggling for her lesbian lover, features one of the most diverse casts the small screen has ever seen, including trans actress Laverne Cox and dyke faves Lea DeLaria and Natasha Lyonne (no, Natasha's not gay, but she was in the classic "But I'm a Cheerleader.") "Orange" is darkly funny and showcases both the humanity of the prisoners and the flaws of the prison system. And there's the soap opera-esque queer relationship of Piper and Alex, or Vauseman, as we know them in our hearts. If you haven't watched this amazing series yet you have some catching up to do! Cause season 6 starts July 27 and WE CAN'T WAIT.
Currently streaming on Netflix
"Blue is the Warmest Colour"
This 2013 film, based on a graphic novel by Julie Maroh, is one of the hottest lesbian films ever, but there's also a lot of devastating emotion running through this tale of intense love between two young women. Adele's life changes when she falls in love with Emma (the girl with the blue hair), but their happily ever after may not be as assured as it seems. It's subtitled and almost three hours, but you won't mind with all the drama and sex scenes.
Currently streaming on Netflix, iTunes and Amazon
"Searching for the Last Lesbian Bars in America"
This Broadly documentary short is hosted by JD Samson, a producer, musician, and DJ formerly with the groups MEN and Le Tigre. Samson goes around the country – from San Francisco to Washington, DC and New Orleans to New York – to talk to those who know the bar scene, including Lisa Cannistraci and Minnie Rivera of Henrietta Hudson. Others talk about lesbians' propensity to fall and stay in love, and therefore not need to cruise in bars so much. Don't blink or you'll miss GO Magazine in a cameo.
Currently streaming on YouTube
"Black Mirror" San Junipero episode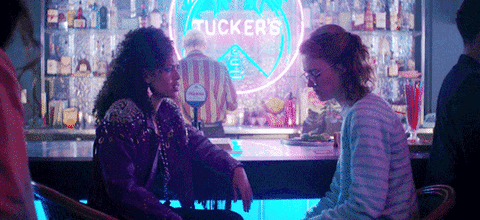 Yorkie and Kelly fall in love in this engaging episode of the science fiction series. The show seems to take place in the 80s, but actually takes place in a different reality altogether. It's a unique, sad, and romantic tale of a virtual world, the limits of life and second chances. When all is said and done, you'll never think of the song "Heaven is a Place on Earth" by Belinda Carlisle in quite the same way ever again. (And you also probably won't be able to stop crushing on the stunning Gugu Mbatha-Raw.)
Currently streaming on Netflix
"Pose"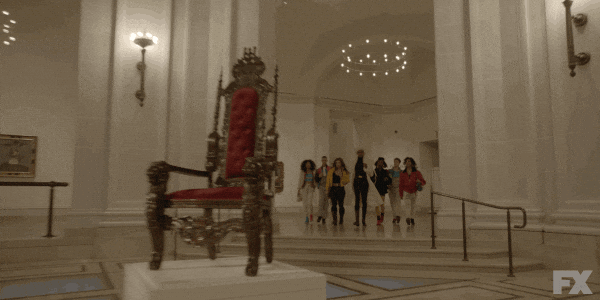 I had just about given up on new TV until I saw "Pose." This FX series, about the ballroom scene for trans women and gay men in NYC in the 80s, is touching and addictive. The show is not even a season old and it's already tackled so many important issues, such as the AIDS crisis, love between a trans woman and a cis man, discrimination against trans women within the gay male community, the drive to be rich in the greed-is-good 80s, finding gay love, being discriminated against, and undergoing gender-confirmation surgery. Directed by Janet Mock, this show provides true representation for Black trans women.
Currently streaming on FXNow
"Paris is Burning"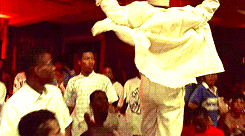 And if you have been enjoying "Pose," you'll like what you might consider a prequel of sorts, this 1991 documentary about the scene directed by lesbian director Jennie Livingston. In this funny and in so many ways tragic documentary, we are introduced to a queer culture that had its own language, its own way of dressing and its own superstars. You'll be touched at how these folks carve out a space for themselves in a world that was so hostile to them.
Currently streaming on Netflix and Amazon
"Regarding Susan Sontag"
Susan Sontag was a bisexual writer who introduced the world to the concept of camp in her influential essay "Notes on Camp." She also published a number of books including "Illness as Metaphor," and was a partner of photographer Annie Leibovitz. This HBO documentary looks at many aspects of her life, and isn't afraid to get dishy. (Let's just say Sontag was a bit like Shane.) If you've never heard of Sontag, don't worry. You don't need to be familiar to find this documentary fascinating, though you may feel the urge to read some of her work after it's over.
Currently streaming on Kanopy
"Out in the Night"
Seven Black lesbians were just trying to defend themselves one night in the West Village, but the police did not see it that way and they were charged for murder (attempted) and assault. This documentary, which originally aired on PBS, is an eye-opening account that will have you questioning what you think you know about justice and journalism.
Currently streaming on iTunes and YouTube
"Gia"
Based on a real-story about a queer supermodel who died of AIDS (likely from drug use) in the 80s, this HBO film was one of the first Angelina Jolie was ever in. The story is compelling, if overacted, and yes, there is nudity. Jolie and Elizabeth Mitchell play a sexy if doomed femme4femme couple. Jolie was perfectly cast as the needy, tough, punk rock Gia, who got caught up in a world she couldn't handle. The Amazon version also has a lot of trivia about the film in their fun X-Ray feature.
Currently on Amazon, YouTube and iTunes
"The Same Difference"
Even in 2018, butches are expected to act and look a certain way and date certain people. This recent documentary, directed by Nneka Onuorah, looks at Black butch lesbians who don't follow the script that people expect them to. The film features AzMarie Livingston, Snoop Pearson, Lea DeLaria and GO's own Kate Frawley! This film makes you think about how we can do better by butches.
Currently on Kanopy
"Gaga: Five Foot Two"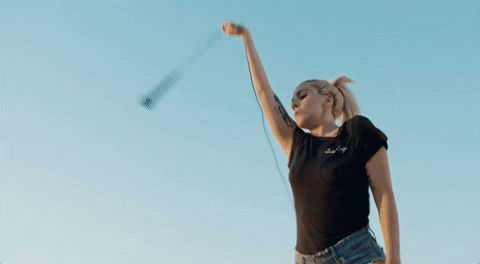 Bisexual singer and LGBTQ activist Gaga gives us a look into her complicated world as she gets ready to sing at the Super Bowl. Gaga also gets "super" honest here, talking about what she really thinks of Madonna insulting her (spoiler: it's not good); showing how she lives with a chronic pain condition; using her music to help her family deal with the loss of a beloved family member; and talking about what it's like to be dealing with relationship drama at the same time you are expected to put on a happy face for the public. You've got to hand it to her!
Currently on Netflix
"Suited"
This HBO documentary is about Bindle & Keep, the clothing business for queer folks run by Daniel Friedman and Rae Tutera. It explores the identities of folks who go beyond gender boundaries, such as Grace Dunham (sister Lena produced the film) and author Mel Plaut, who wrote the memoir "Hack," about driving a taxi cab for a living. For a cis man, finding a suit is easy, but for those who are trans or gender non-conforming, it is more complex, and you need someone who not only won't discriminate, but who understands your journey, and knows what kind of suit is ideal not just for your body but your personality.
Currently on iTunes and YouTube