Remember when Buffy's badass witch Willow Rosenberg fell for Tara Maclay? For their first season and a half together, their physical affection was merely implied via suggestive scenes of the two casting spells. Cut to 2013, and the opening of the Orange Is the New Black pilot includes a sultry shower scene with Piper Chapman and her then-girlfriend Alex Vause. Not only is physical intimacy more widely portrayed, but lesbian proposals are also now commonplace on TV. While not all the below couples made it to the altar, their romances were adorable while they lasted. Here's some of our favorite lesbian wedding proposals in TV history.
Shane McCutcheon and Carmen de la Pica Morales, The L Word
Shane was a major fan favorite on The L Word, but even her most ardent fans admit she makes a better friend than a girlfriend. While Shane was notoriously lecherous and fearful of emotional commitment, for a hot minute it looked like the sweet, innocent Carmen de la Pica Morales had tamed her. Shane casually pops the question in her backyard while Carmen is gardening. While it takes her a few days to answer, Carmen is inspired to say yes after the group pays a heartbreaking tribute to the late Dana Fairbanks. In true L Word fashion, it does not work out in a dramatic way that involves a distraught Carmen left at the altar. However, the Carmen/Shane love affair was nice while it lasted. Here's hoping the pair work it out on The L Word reboot.
Piper Chapman and Alex Vause, Orange Is the New Black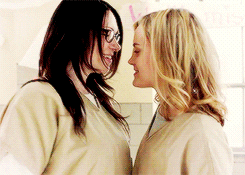 While Piper gets a fair amount of hate from the Orange Is the New Black fan base, her romance with Alex Vause is one of the high points of her storyline. While the women have some seriously tumultuous history between them, the pair keep finding their way back to one another—and in prison, of all places! While hiding out in a bunker during a riot with a group of fellow inmates, Piper comes to realize exactly how much Alex means to her. This leads to an impromptu proposal complete with a can of beans as a makeshift engagement ring. How does Piper get Alex to say yes? She gives a pretty compelling speech about how life is often painful but having a partner to go through it with makes it hurt just a little less.
Callie Torres and Arizona Robbins, Grey's Anatomy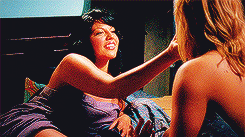 Drama is par for the course on Grey's Anatomy, so it's unsurprising that orthopedic surgeon Callie Torres' relationship with pediatric surgeon Arizona Robbins did not unfold smoothly. Their ups and downs included an unplanned pregnancy, a temporary breakup, and a proposal interrupted by a car accident. After Arizona pops the question en route to a romantic weekend getaway with the pregnant Callie, a head-on collision with a truck stops Callie from answering. Later, while recovering in the hospital after prematurely delivering her daughter, Callie finally gets the chance to say yes. While it doesn't work out long-term (most romances on the show don't), the relationship was popular and the proposal delivered all the spectacle and suspense Grey's fans love.
Santana Lopez and Brittany Pierce, Glee
As the proposal takes place on one of the most musical shows on television, of course, Santana Lopez and Brittany Pierce's engagement is preceded by a duet. After a mash-up of "Hand in my Pocket" and "Feel the Earth Move," Santana tells Brittany she wants to mash up with her forever. (Yes, those are her words.) Her speech is a little corny, but Glee fans have come to expect and love this brand of cheesy dialogue. Brittany accepts, and the pair later have a double wedding with fellow LGBT couple Kurt and Blaine.
Sapphire and Ruby, Steven Universe
Steven Universe has received widespread praise for its dedication to diversity, including ample LGBT representation. It's rare for a kids' show to include same-sex couples, which is why Ruby and Sapphire's touching romance is considered so groundbreaking. The pair have had their ups and downs, with Sapphire's precognitive nature often rubbing the spontaneous Ruby the wrong way. They separate for a bit in "The Question" and Ruby tries out the lone ranger life as a cowgirl. However, Ruby realizes she can't get Sapphire off her mind and that they're better together than apart. After being inspired by a comic book Steven shows her, Ruby romantically rides back to her girl on horseback and then gets down on one knee and pops the question.
Bianca Montgomery and Reese Williams, All My Children
Poor Bianca Montgomery. The All My Children heroine, one of the most groundbreaking soap opera characters of all time, was beloved by fans for her big heart and strong moral code. This is what made her notorious lack of luck in the romance department so painful to watch. It looked like the tables had turned for Bianca when she returned to Pine Valley during a tornado and revealed she had found love in Paris with the gorgeous architect Reese Williams. After the birth of their daughter, Gabby, Reese gets down on one knee and asks Bianca to marry her. Audience reception to Reese was lukewarm, especially from ardent Bianca and Maggie shippers. However, the proposal and subsequent wedding was a bold move at the time. Bianca and Reese's nuptials marked the first same-sex wedding in the history of daytime television. The storyline tanked fast thereafter, though. Fans were outraged when AMC succumbed to the cliché of inserting a man between a lesbian couple by hinting Reese had feelings for Bianca's brother-in-law. The marriage was annulled and Bianca was, once again, left heartbroken.
Stef Foster and Lena Adams, The Fosters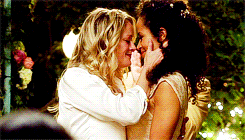 Police officer Stef's proposal to her girlfriend Lena is a theatrical event, but the pair's rocky road to engagement only enhances how heartwarming it is when Lena says yes. After Stef is shot while searching for her runaway foster son, she is rushed into emergency surgery to remove the bullet lodged in her spine. A flashback then reveals the touching moment when Stef, raised in a religious household, tells Lena she has finally accepted herself as a lesbian and come out to her family and friends. When Stef comes to after a successful surgery, the first words she utters are to Lena. Despite Lena's protests that she not push herself to speak, Stef removes her oxygen mask long enough to say, "Will you marry me?" Lena, of course, accepts and the two wed in the following episode.
Lindsay Peterson and Melanie Marcus, Queer as Folk
Queer as Folk, which premiered in 2000, was one of the first television series to primarily focus on LGBT characters. Lindsay and Melanie were the on-again, off-again couple quintessential to any drama. Lindsay pops the question in the season two premiere, only to receive a no from Mel on the grounds their marriage will not be legal. However, Mel has a change of heart by the end of the season, and the finale includes a surprise wedding. Unsurprisingly, infidelity and other drama would tear the couple apart, but a tragic bombing at the end of the series brings them back together. Ultimately, they end up running away to Toronto together to (hopefully) live happily ever after.
Joyce Wischnia and Phyllis Kroll, The L Word
While the couple didn't quite capture viewers' hearts the way Carmen and Shane did, no one can deny late-in-life lesbian Phyllis Kroll's romance with divorce attorney Joyce Wischnia provided much needed comic relief. And it certainly helped that the hilarious Jane Lynch played Joyce. Who could forget the moment Joyce proposed stark naked in Phyllis's office without realizing Bette was in the room? One of the few relatively stable couples on the show, Phyllis and Joyce remained together until the series finale.
Sarah Pfefferman and Tammy Cashman, Transparent
Sarah Pfefferman's first major storyline on Transparent involved her falling back in love with her college girlfriend Tammy Cashman. Both women had spouses and children but eventually left their respective partners for one another. Their romance was incredibly messy given both were very flawed, often outright selfish characters. Sarah's proposal came after she nearly slept with her ex-husband and suggesting marriage was actually her hasty attempt to fix things. While Sarah and Tammy had an elaborate wedding the following season, it was almost immediately annulled after Sarah had a breakdown in the bathroom during the reception screaming that she hated Tammy. As Transparent is a story about a highly dysfunctional family's highly dysfunctional behavior, the ill-advised proposal followed by the catastrophic marriage was an objective disaster for the characters. However, it struck the perfect tone for Transparent as a television program, and for that, it deserves a spot here.