Happy almost Valentine's Day, GO readers! Whether V-Day is a joyous occasion or one you'd rather forget, there's no better way to celebrate the day of love with a steamy lesbian romance flick. To get you in the mood, we've compiled and ranked thirteen of the greatest—and hottest—lesbian sex scenes throughout cinema. For those lacking that special someone this year, these NSFW movie moments might even make up for it.
13. Je, tu, il, elle (1974)
This drama directed by influential auteur Chantal Akerman is quiet and minimalist, but its themes of female desire go beyond what words could communicate. Toward the end of the film, lead character Julie (played by Akerman) makes love to her girlfriend in a way that's both tender and erratic. The 10-minute scene is built on genuine emotion, and also conveys the fulfillment of thirst, hunger and intimacy that Julie has longed for. Known as one of the first lesbian sex scenes in a feature-length film, it still remains transcendental to this day.
Where to watch: Look out for this on The Criterion Channel, which arrives April 8.
12. The Hunger (1983)
The sex scene in this tale of vampire lust gave lesbians their rights thanks to welcome input from one of the film's lead actresses, Susan Sarandon. In The Celluloid Closet, a documentary about homosexual representation in cinema, she revealed that her character was originally written as drunk leading up to her rendezvous with Catherine Deneuve. However, Sarandon had this changed to emphasize that these women were willingly interested in sleeping with each other. Sarandon adds in the interview, "You wouldn't have to get drunk to bed Catherine Deneuve, I don't care what your sexual history to that point had been." Gays everywhere would definitely attest to that.
Where to watch: Amazon Prime Video.
11. Below Her Mouth (2016)
Recently, I decided to reacquaint myself with Below Her Mouth's tribbing scene—for research, of course—and it definitely makes the cut. I only wish that the film as a whole matched the quality of its erotic moments (it's not my favorite, but to each is own).
Where to watch: Netflix.
10. The Summer of Sangailė (2015)
Lithuanian romance The Summer of Sangailė might be the most criminally overlooked film in lesbian cinema. The aesthetically breathtaking sex scenes between Sangailė and Auste tie directly into the film's theme of how love can inspire one to conquer their fears. These moments capture the inherent freedom of summertime, as well as the sexual freedom that comes with it.
Where to watch: Kanopy.
9. Thelma (2017)
Thelma's love scene technically doesn't involve sex, but it's both erotic and mind-blowing enough to qualify for this list. This moment between the titular character and Anja, whose mutual attraction grows over the course of the film, is intriguingly realistic. It beautifully contrasts Thelma's fear of accepting her lesbianism along with the gratification of exploring her true desires.
Where to watch: Hulu.
8. The Miseducation of Cameron Post (2018)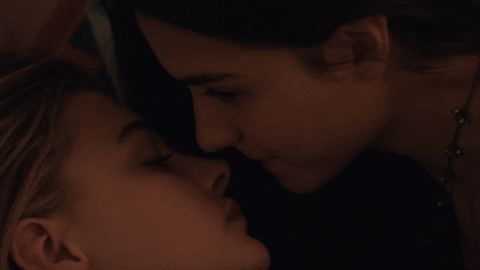 There are lots of steamy moments in this film that caught sapphic viewers' attention. The one that clings to our collective memory most is between Cameron and her classmate Coley, who get intimate with each other in the middle of watching Desert Hearts. It's incredible that Miseducation, which mainly revolves around conversion therapy, leaves room for open and realistic depictions of same-sex desire. It treats lesbian sexuality as exhilarating and fulfilling, reminding us that it's something we should never be ashamed about.
Where to watch: HBO (coming soon), Kanopy.
7. The Watermelon Woman (1996)
This moment in The Watermelon Woman was once called "the hottest dyke sex scene ever recorded on celluloid" for a reason. Close-up camera angles celebrate seduction and bodies intertwined. The experimental, trip-hop sound of Leslie Winer's "Skin" plays in the background, immersing the audience into an eye-opening and tasteful experience.
Where to watch: Kanopy.
6. Desert Hearts (1985)
The sex scene in this '80s lesbian classic is true, erotic bliss. While slow and gentle, it never distances itself from portraying a deep and yearning passion. In the beginning, it's a nerve-racking experience for Vivian as she's never been with a woman. But as Cay guides her, the two women end up feeling more alive—and more in love—than ever before. With no music in the background (a distinct choice made by lesbian director Donna Deitch), action, desire, and truth are all that matter.
Where to watch: The Criterion Channel, *most likely*.
5. Mulholland Drive (2001)
David Lynch's magnum opus is one of the most unpredictable films you'll ever witness, but the more you watch, the more you'll realize the importance of its lesbian love scene. For a mainstream film from the early 2000s, it remains among the most open and fearless expressions of desire between two women. With the addition of moody lighting and inviting dialogue, it's truly at the top of its class. Also, be sure to look out for Naomi Watts's Very Gay facial expressions as Laura Harring climbs into bed nude with her.
Where to watch: Amazon Prime Video.
4. Disobedience (2017)
The love scene in Disobedience will forever remain one of lesbian cinema's most talked-about, and it deserves nothing less than to be immersed in our minds forever. When I first watched it, I was impressed by the intense eroticism it displayed considering that there's no nudity. Most importantly, the scene gives Esti, a closeted lesbian due to religious conformity, the chance to experience true desire and freedom for the first time in her life. This Disobedience moment also marked Rachel Weisz's reign as Queen of the Lesbians and made dykes everywhere wish it was their mouth she was spitting in, instead of Rachel McAdams's.
Where to watch: Amazon Prime Video.
3. Barbara Hammer's filmography (1974 – present)
Often referred to as "the fairy godmother of lesbian experimental cinema," Barbara Hammer basically invented sex on screen. The first openly lesbian filmmaker in America, Hammer's work beautifully explores lesbian desire, identity and life. As for her most erotic films, I highly recommend Dyketactics (1974), Women I Love (1976) and Nitrate Kisses (1992). The sensation of touch comes alive through every frame, and Hammer always manages to be radical with both technique and the content itself.
Where to watch: DVDs are available on Hammer's official website.
2. Bound (1996)
"I'm not apologizing for what I did; I'm apologizing for what I didn't do," Violet tells Corky in her alluring, raspy voice before their explosive sexual encounter begins, making up for their interrupted attempt from earlier that day. Choreographed by bisexual sex educator Susie Bright, the scene's authenticity transcends lovemaking itself, with leather jackets and combat boots dispersed beside the mattress. This scene not only embodies the magic of carnal desire but also titillates its audience alongside the characters.
Where to watch: Amazon Prime Video.
1. The Handmaiden (2016)
With all the scissor shaming that unfortunately goes on in the queer community (knock that off!), you'd think that lesbian movie sex scenes have overutilized the act. However, The Handmaiden is actually one of the meager few films that include it. For lead characters Lady Hideko and Sook-hee, making love to each other intensifies their romance, but also represents their escape from the heteronormativity and oppression that burdens their lives. The film's lesbian sex scenes are a liberating rarity due to their equal exploration in complexity, explicitness, and kink.
Where to watch: Amazon Prime Video.
What is your favorite lesbian sex scene in film? Let us know in the comments!