2018 was the best of times (read: so many epic lesbian and queer moments)… and the worst of times (read: shit show). From the disturbing White House policies to the abusive men who were outed through the powerful #MeToo movement to happier lesbian pop culture moments like Lena Waithe shaving her head (power move!), Ellen turning 60, and Cher and Meryl Streep kissing on the red carpet for Mamma Mia: Here We Go Again, we've experienced quite the rollercoaster.
While I'm hoping that the 2019 news cycle will be less depressing than that of 2018, I'm doing the groundbreaking work of manifesting 10 lesbian pop culture moments which have the potential to save the year. Some are more likely to occur than others, but I truly believe that if we all close our eyes at the same time and wish upon a photo of Janelle Monáe, all of these moments will come true. Sisters, let's close our eyes together right now. Amen.
1. Queer Eye but like Ocean's 8 where lesbians help straight women pull off heists.
In 2019, I want a TV show that is like Queer Eye, but instead of gay men helping straight men get their shit together, in this show lesbians help straight women pull off heists. For example, does her ex-husband insist on keeping her mid-century modern table set? The lesbians plan a heist and help her break in and steal it back. Does a middle-class straight woman need a few cases of a disgustingly expensive wine for her feminist book club? The lesbians plan a heist and break into the winery–a win for feminism everywhere. Just like Queer Eye and just like in Ocean's 8, each lesbian has a different role in pulling off the big day. There's a lesbian who masterminds the whole heist; there's another lesbian who drives the getaway U-Haul, etc. God, can you imagine how popular this show would be?
Or this:
Queer Eye but it's a bunch of butch lesbians who show up at my house and teach me how to parallel park

— Eliana Dobres (@elianamargalit) June 27, 2018
2. Kate McKinnon to play more queer characters on Saturday Night Live.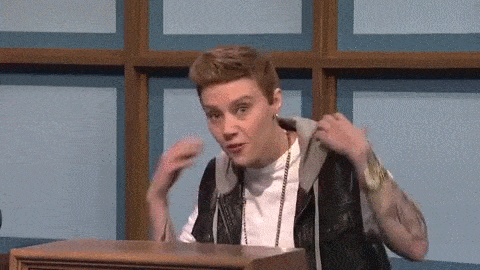 I love our lesbian goddess of comedy so much. But I wish she'd play more queer characters. Sure, sometimes she plays fun lesbian characters like the time she played opposite Gal Gadot, but more often than not she plays straight in sketches where heterosexuality doesn't even advance the plotline. In 2019, I'd like to see her play more queer characters. (But let the record show that I never want her to stop playing Jeff Sessions. That shit's incredible.)
3. Susie in Mrs. Maisel will be gay, and Sandra Bullock and Cate Blanchett will smash on screen in Ocean's 9.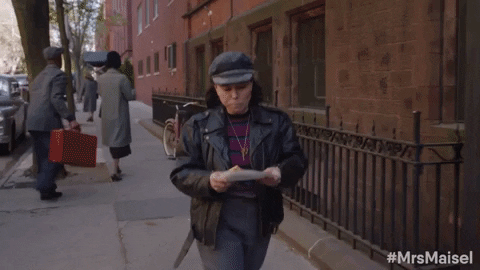 In 2019, can we please stop queerbaiting? Please? One of my favorite feel-good shows of 2018 was The Marvelous Mrs. Maisel. The show is far from perfect, and if you, like me, are also angry about the tragedy that is the final episode of Season 2… honey, I'm right there with you. But what is unconscionable about the show is the fact that the writers won't make Susie openly gay. Like, come on, this bitch is the textbook definition of dyke, but she doesn't get a love interest? We deserve this. I also have another bone to pick with the writers of Ocean's 8. Yes, the movie was fun and Cate Blanchett in suits? 10/10. But clearly Bullock and Blanchett's characters were gay for each other, but the writers just didn't have the wherewithal to write it into the script. If they make an Ocean's 9, I demand that Bullock and Blanchett smash onscreen.
4. I'll watch Annie Lennox's "Why" music video without crying because in 2019 she will be a straight-up lesbian.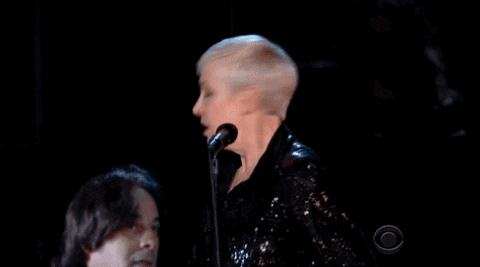 My darkest moment of 2018 inspired this manifestation. On New Year's Eve, I found myself very drunk and watching Annie Lennox's music video, "Why." I didn't know anything about Annie Lennox until my best friend introduced me to this song, and I was loving every minute of it until my friend just casually mentioned that Annie Lennox is straight. Excuse me? This music video is seriously the gayest shit. Androgynous, sparkly, dramatic–all of the boxes are checked despite the fact that Annie Lennox is not gay. This fact is why I found myself in the fetal position on my living room floor sobbing my eyes out. In 2019, I will never again find myself in this predicament because Annie Lennox will come out with the fact that she has been a huge lesbian all this time.
5. Rachel Weisz will cut me open with her jawline and leave me for dead on the side of the road.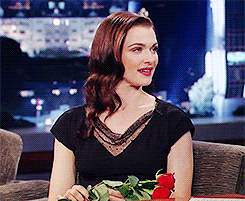 All right, I'll admit that this is a personal and selfish manifestation, but I'm wishing for it, regardless. Two of my favorite movies from 2018 were Disobedience and The Favourite. In both, Rachel Weisz plays a queer woman. I've seen The Favourite exactly three times now and still cannot wrap my mind around how exquisitely chiseled her bone structure is or how hot she looks in period riding outfits. Can you say blessed? Bottom line, 2018 made me into a huge Rachel Weisz stan, and in 2019, I want her to cut me open with that gorgeous jawline and leave me for dead on the side of the road. Where can I sign up to have this service performed? Let me know in the comments.
6. Rihanna will finally drop a new album.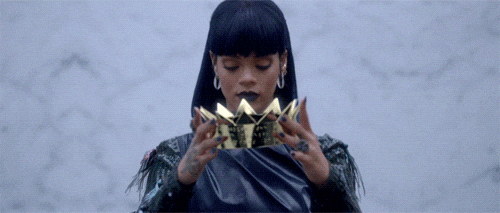 We've been kissing it better since 2016, RiRi! SINCE 2016! I get it, I get it. She's been busy dropping beauty lines and lingerie lines but please, for the love of Cher, release new music already! She's been dropping hints on social media that she is working on a new album, but she's been dropping hints for years now. All I know is that she'd better drop that album soon because GAYS LOVE RIHANNA.
7. The newly elected queer women in Congress will draft badass progressive legislation.
In 2018, a record number of queer women won seats in both national and state legislatures. In Kansas, lesbian Sharice Davids unseated incumbent Republican Kevin Yoder. Other historic wins include Tammy Baldwin from Wisconsin, Angie Craig of Minnesota, Oregon's governor Kate Brown, and of course, bisexual icon Krysten Sinema of Arizona. Now that the Democrats control the House, there's a real opportunity for positive change. In 2019, I'm manifesting sweeping progressive policies.
8. Sleater Kinney album produced by St. Vincent.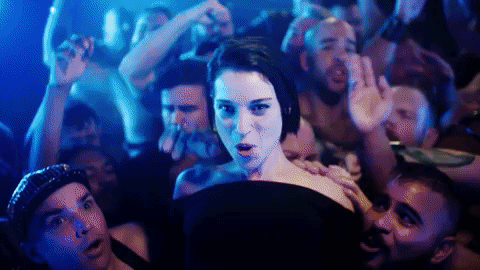 When I stumbled upon this news on Twitter, I could hardly believe it. And even though it is a confirmed fact and not a rumor, I'm manifesting this in 2019, nonetheless. It just seems too good to be true. The gorgeously gay St. Vincent producing a new Sleater Kinney album? Yes, please.
9. Cate Blanchett will come out as bisexual.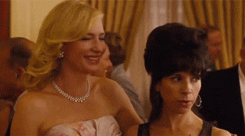 I am *fairly* unabashed about my obsession for Cate Blanchett. I have a secret Cate Blanchett stan Twitter account, and I tweet about her entirely too often on my actual Twitter. Because of this passion, I quite humbly refer to myself as a Cate Blanchett Connoisseur or a Cate Blanchett expert, if you will. My scientific research has led me to uncover a significant amount of evidence that reveals her homosexual tendencies. (I am totally not into outing anyone, but I am into indulging my most wishful thinking!)
I could write an entire thesis on this but instead, I'll give you the elevator pitch. There is this crucial interview from Cannes in 2015, in which she avoids the question of her sexuality, answering, "Who cares?" Her nervous laughter has me screaming at my computer screen, "I CARE!" Not to mention the way that she looks at women, talks about women, is forever sporting the daddiest of fits… and Carol! There are a plethora of other clues that indicate she might long to play for our team (despite the fact that she's been married to fellow Aussie Andrew Upton for over 20 years and has a million kids with him), but I'll end with this one. In this video—which you must watch until to the very end—Blanchett grabs the ass of Blue Is the Warmest Color star Adele Exarchopoulos. 2019 is a year for big dreams, so I'm speaking this into existence: In 2019, Cate Blanchett will say those words that we poor hungry gays have been longing to hear, "My darlings, I'm bisexual. What are you doing on Sunday?"
What moments are you manifesting for 2019! Let us know in the comments!