On Monday afternoon I was sitting in a meeting, my phone tucked safely into the zipper component of my handbag because I'm a trying to be a grown-up who can endure face-to-face contact without the buffer of technology.
At around 1:00 pm EST a witchy feeling overtook the entirety of my being. "Something wonderful and something totally gay is happening right now" I dreamily thought to myself as I gazed into the glittery landscape of the Upper West Side. "Now, stay focused, Zara. You're in a meeting." I coached myself back into reality.
At 3:00 pm my meeting was over and I slipped into the sticky leather backseat of a cab having completely forgotten about the intense dyke witch vibe I had experienced a few hours prior. I stuck my hand into my massive tote and fished around for my phone.
My gorgeous lesbian friend Rocky had sent me a text, with a link to an article in The Variety. I coldly clicked the link expecting to see yet another picture of Kristen Stewart chicly u-hauling around LA with her supermodel bae Stella Maxwell, when—BAM. The rumors that have been circulating the internet, were officially deemed true.
I don't like to pop culture shame people, so if you happen to be living under a rock and haven't heard the news, let me happily inform you that The L Word, is back baby!
Yup, Showtime is doing a reboot of our beloved lesbian melodrama, with Leisha Hailey (Alice), Kate Moennig (Shane) and Jennifer Beals (Bette) serving as executive producers and part-time cast members. Whether you love or hate The L Word, one simply can not challenge the hard fact that this is major lesbian Hollywood gossip, honey.
Every card-carrying lez in North America and Europe is tweeting dramatic, excited, and sometimes enraged rants about the L Word comeback. 
Why do i feel that this reunion is a precursor of even bigger things to come for lesbian land. Im so happy😭😭#TheLWord #TheLWordReboot

— Rhinestone Butterfly (@GAFan8) June 15, 2017
When I found out about #TheLWordReboot… pic.twitter.com/jFGKHMedvl

— Mrs Mossow (@AprilRoseMossow) July 13, 2017
Not fake news. "The L Word" reboot has officially been announced. #thelword #thelwordreunited https://t.co/Xbkr9Z6SZM

— GO Magazine (@GOMag) July 11, 2017
Suddenly it struck me: This explained the wildly spiritual moment I had experienced during the meeting! See, I've been blessed (or cursed, depends on the day) with a Sapphic gift from the Lesbian Goddesses up above: I always intrinsically know when something massive is about to happen in the lez underworld. I can sense if a big name actress is going to come out and tell the world she's a card-carrying dyke and the six-month fling with the pretty boy pop star (who resembled a cute lesbian, ironically) was merely a beard. I can feel a celesbian breakup before the goddamn Daily Mail has a chance to haphazardly even type out the breaking news (I'm convinced that the Daily Mail must have a bevy of insider lesbians on hand). I've harbored this gift since early childhood, it's my only skill, don't take it away from me, please.
As excited as I am (and trust me, honey, I haven't been this excited about anything since 2012 when I saw Portia and Ellen order vegan cookies at the Laurel Canyon Country Store with my own TWO EYES) about The L Word revival, I was struck with an irrepressible feeling that there was more good news to come. Seriously. I've had visions of vivid rainbows dramatically casting themselves across the gray, smog-ridden skies of tinsel town for the past 48 hours.
Today, proved to me, that my visions weren't naive hopes, nor were they side effects of my prescribed psychotropic drugs, but accurate omens.
This morning the 2017 Emmy nominations were announced, and ladies, I'm pleased to report that our kind is s-l-a-y-i-n-g the Hollywood game.
Let me lezplain you: out lesbian, Samira Wiley is nominated for the first time for her riveting performance in the disturbingly brilliant Hulu adaptation of Margaret Atwood's  "The Handmaid's Tale." Long time lez and my favorite actress to ever exist, Ms. Lilly Tomlin is nominated for "Best Lead Actress in a Comedy Series" for her role in "Gracie and Frankie."
The fun doesn't end there, either, kittens: Evan Rachel Wood, scored a nod for her performance in the series "Westworld" and the hilarious force of queer girl nature Kate McKinnon is up for "Best Supporting Actress in a Comedy Series" for "SNL".
Laverne Cox and Shannon Purser (of "Stranger Things") are both up for "Best Guest Actress in a Drama." Jane Lynch scored recognition for "Best Actress in a Short Form" for "Drop The Soap." Director Jamie Babbit (of queer cult classics "But I'm A Cheerleader" and "The Itty Bitty Titty Committee") is nominated for "Outstanding Director." Ellen Freaking Page's show "Gaycation" is up for "Best Unstructured Reality Series." Wanda Sykes (who I silently fangirled over when I saw her rubbing elbows with Drag Queens in Cherry Grove just last week) is up for "Best Guest Actress in a Comedy Series" for the show "Black-ish". And writer Lena Waithe received a coveted writing nomination for an episode of "Master of None."
I don't know about you, but I'm thrilled that queer women are finally being recognized as actual talent by the mainstream media tycoons.
Yes, there have been an abundance of queer characters on TV as of late ("Orange Is The New Black," "RuPaul's Drag Race," "The Handmaid's Tale," "Transparent" and "Master of None" to name a few), but you know what? Being offered a seat at the dinner table is not enough. Being included in the narrative is yes, a welcomed change, but it doesn't make up for the lack of real life queer female visibility in the mainstream media.
We are far more deserving of simply being included in the storyline. We deserve to be recognized for our talent and hard work, too. With awards. And not just GLAAD Awards and Indie awards (which again, are LOVELY) but shiny gold Emmy Awards, too.
When I was a kid I wanted to be an actress more than anything in the world. I didn't want to be a no-name indie actress, I came out of the womb a mainstream whore who coveted the attention of gold-gilded Hollywood.
I wanted money, successful, fame, glamor, baby! Sue me.
I also knew I was a giant lesbian from the time I was seven. I was eleven when Ellen DeGeneres came out in 1997. She was the first and only lesbian I had ever seen, and she had her own TV Show. Swag! I was excited, maybe there was hope for me to have my very own show one day, too, while being totally out.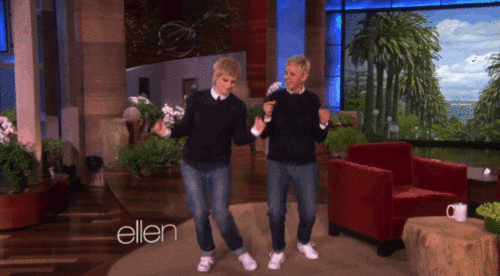 A year later the show was canceled and Ellen herself seemed not only to be out of work but to vanish completely. Gone. Cast out of the spotlight and sentenced to the dark gay underworld.
I didn't to live in the dark. I wanted the brightest lights to bestow themselves on me, always. But the message was clear: you get to be honest about your sexuality and be banished from Hollywood, or you can be closeted and successful. I didn't know what was more depressing. I developed an anxiety disorder that required medical attention when I was twelve.  
It may seem silly, but I don't think we should ever undermine the very real psychological damage Hollywood can do a kid. The lack of recognition LGBTQ+ women have received in mainstream media can really screw up a little queer kid with big Hollywood dreams.
Yes, dreaming of being an award-winning actress is always delusional, given the crazy odds of winning the fame game. But it should be delusional because it's a highly competitive, unfair industry, for everyone. It shouldn't be ~extra~ delusional for queer people, because of the industry never, ever casts or hires queer talent, even when the queer character is at the center of the storyline.
When I got older being gay became slightly more accepted in the cruel, cold world, and maybe even a little trendy.
Suddenly mainstream media outlets wanted me and my story. They wanted to me to write articles for them. They wanted me on their webisodes and podcasts. They wanted me to consult on their hip new queer teen series, you know, to ensure that the straight actresses and the straight writers and the straight directors were doing a good job at portraying the "authenticity" of lesbian culture. They never wanted to pay me. They never wanted to actually cast me as the lesbian lead, Nah, they had pretty, straight, already famous actresses they would pay a gazillion dollars to, to do that.
Anytime I expressed my frustration, anytime I demanded to be paid for my time or my words or my brain, I was deemed "ungrateful."
"This is great exposure by a MAINSTREAM media outlet" they would bark as if I should be honored that pop culture is even glancing in my ugly, real-life lesbian direction.
Over the years I've continued to see this epidemic grow. Yes, we have more gay movies and gay characters, but they're all too often written and directed by heteronormative Sam starring heteronormative Sally. Hollywood essentially tells us: "we're fascinated by you, and we want to suck your gay blood for content, but we'll give your blood to straight people because you're too weird and too gay to win awards and make money and be on the cover of magazines."
You know what? I feel this week might, hopefully, be the start of positive change. Executives are clearly are viewing us as human beings who spend money and subscribe to cable networks if they're willing to reboot "The L Word" a show about glam lesbians in living in Los Angeles (and recognizing that we can be pretty and glam! Not just as material for SNL skits about how sexless and unstylish we are! How groundbreaking!). Hollywood is letting us know that not only are we are hirable and castable, we're worthy of clutching a shiny statue at a mainstream award ceremony too. And before they kill us off with the all too tired "bury your gays" trope.
Even if you don't care about Hollywood, let me assure you, the kids notice all of this stuff. Mainstream culture has a huge impact on youth, whether you like it or not.
I can't stop smiling thinking about all the  little queer girls out there, who have massive dreams of LA industry grandeur, who will now see fierce unapologetically queer women like Samira Wiley being recognized by the big dogs for her talent, to see her strut down the RED CARPET with her wife and get to be interviewed by E! News. This is the most validating thing to ever happen to her.
Suddenly the possibilities of the universe have cracked open, possibilities are wide and endless like they've always been for her heterosexual classmates. She's able to imagine a dreamy life of fame, money, and recognition for the first time ever.
Because you know what? She's being shown, that just because you're queer, doesn't mean that you'll live an underground life lurking in shadows either. It means you can glow in the soft-focus lights of celebrity, just like Natalie Portman, if that's what you desire, babes.
For a lot of queer kids—just as I was in 1997 when Ellen came out—that can be the difference between life and death. Knowing that you have a shot at competing for the life you dreamed of, while still being authentically YOU, is sometimes all it takes to keep you going when you're young and fantasizing about the life beyond your tiny town and tiny school.