It's that time of year again, lesbians. You still have no idea what you are going as for Halloween, and now you just got a text letting you know your ex is going to be at the same Halloween party as you. Remain calm. There is no need to throw on some low-rise jeans and go as Shane from "The L Word" for the fifth year in a row. I got your back, girl. And I have the perfect costume ideas that will ensure you show up dressed to impress (your ex).
But Halloween isn't just about impressing your ex. It also provides you the perfect opportunity to transform into your favorite WLW characters and live your gay fantasy. Over the past few years queer female representation in media has reached new heights. The possibilities are endless, but here are a few ideas that are sure to turn heads (including your ex's) at your Halloween party next weekend. 
Megan Rapinoe at the 2021 Met Gala
View this post on Instagram
Sure, you could take the easy road and go as Megan Rapinoe the soccer star. BUT Rapinoe at the Met Gala 2021 was one of the most show-stopping, deliciously queer looks of 2021, so why not recreate it? For this costume, you'll need a blue button down (we love this one from Shein), a red suit (helloooo to this one from Boohoo), and a "don't fuck with me, Donald Trump" attitude. But most importantly, don't forget the iconic "in gay we trust" clutch (originally designed by Edie Parker) to complete the look. A total gay serve. You'll have every girl at the party wanting to be your soccer wife.  
Jennifer Check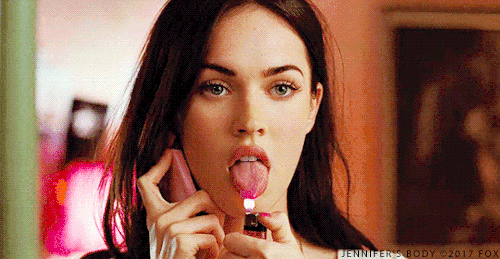 Honor bisexual icon, Megan Fox, and her major resurgence in pop culture by being hot. Just emulate any of her lewks from the campy feminist cult classic, "Jennifer's Body," that was way ahead of its time: man-eating cheerleader (try this get up from Dolls Kill), the bloody pool outfit (perfectly meticulous DIY tutorial here), and arguably the most iconic: the pink heart sweatsuit (exact replica here from Shein). These costumes can suit whatever gory-ness level you want, from none, to "just ate a soul."  Bonus points for asking your ex for a lighter to burn your tongue with. Or finding a d*ke version of Machine Gun Kelly to touch tongues with. 
View this post on Instagram
Janis Ian
This one may not be the obvious choice since Janis wasn't gay in "Mean Girls," but we're hitting that nostalgia/gay awakening factor. It's a crowd pleaser. Fashion your hair into a messy up-do with some 2000's hair clips (we love these smiley face ones from Forever 21 because they remind us of Alice Pieszecki's deranged car chase scene), layer some t-shirts (like these amazingly accurate throwback ones made by CartelleCo), add a denim vest (like this one from Nasty Gal), smudge some black eyeliner around your eyes, and you're Janis from "Mean Girls." Pro tip: calling girls a regulation hottie is sure to win you some brownie points.
etsy.com/shop/CartelleCoPhoto by CartelleCo
Santana or Brittany from "Glee"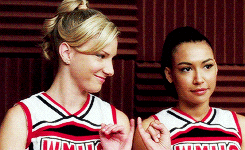 The OG's of high ponys and teeny tiny cheerleader skirts. Reach in the back of your closet and pull out your old high school cheer uniform — the time has come to put it back to use! This costume is also the perfect opportunity to dump a slushie on your ex if you're on bad terms. Thank me later. 
Rue or Jules from "Euphoria"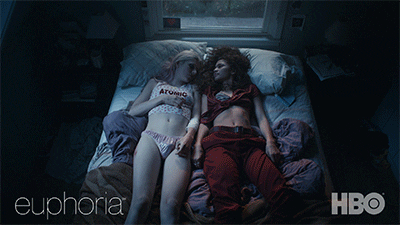 This one depends on which look you want to rock. For Jules, try your hand at some intergalactic glittery eye makeup, platinum blonde hair, a y2k inspired outfit, and top it off with anything holographic. For Rue, get yourself a maroon zip-up hoodie, some baggy shorts, exaggerate your under eye bags, and finally add a glint in your eye that says "I could kill you."
View this post on Instagram
Yorkie or Kelly from "Black Mirror" (as a single power move)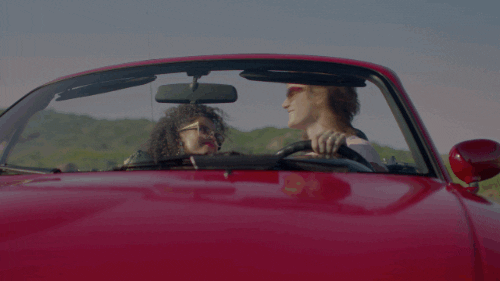 Become the gay 80's heartthrob of your ex's dreams. This one is super cliche as a couple's costume, but nothing says single and DGAF like doing half of a couple costume by yourself. Hit up the local thrift store (or your parent's closets) and get anything with massive shoulder pads or some take-up-half-your-face wire glasses and BOOM, you've nailed it. Bonus points if you steal the aux cord at the party to play "Heaven Is A Place On Earth". 
Emma from "Blue Is The Warmest Color"
Get the blue hair dye (temporary hair dye… unless…) and pull out the terrible French you've been practicing on Duo Lingo once every four months. I mean, Emma is every queer girls' French wet dream. For this costume, you can wear almost any basic outfit; the hair is the real selling point. And if you're feeling it, pull out a cigarette, put on Lykke Li's "I Follow Rivers" and sketch your ex's portrait. 
Jojo Siwa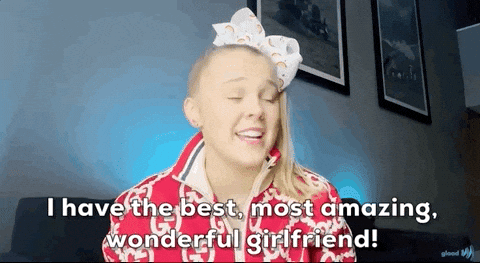 THE icon, the legend, the side pony queer queen herself. This one is sure to make your ex come back like a boomerang.* For this one, just hot glue some crystals, rainbows, and glitter onto whatever you're wearing. And don't forget that no Jojo Siwa look would be complete without her iconic hair bow.  
*This theory has not be proven as we eagerly await to see if Jojo Siwa and her girlfriend are over, over or like, not really over.
Girl In Red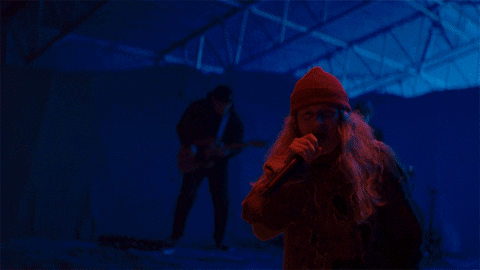 The gay Norwegian queen herself. Get yourself an oversized shirt and some baggy pants, add a beanie and learn a Norwegian pick up line or two. Crowd surfing or shredding a guitar solo is also encouraged. Bonus points if you carry around a sign that says, "there's still time to fall in (back) love this October" or "I wanna be your girlfriend (again)" to get your ex back. 
If you try out any of these costume ideas for yourself, submit your photos to GO! (and, of course, let us know what your ex thought about it). Good luck and Happy Halloween!