I hope this round-up finds you well in these unprecedented times.
Speaking of, what do you do for a Halloween that isn't really, well, like Halloween? Just what are you supposed to wear if the only place you're going is a Zoom call — or maybe just your own living room? Dystopian Halloween costumes aren't really funny anymore because, well, *gestures.* Scary costumes are, well, scary, and we're all already scared enough. Slutty costumes are way more fun when you have a fabulous lesbian Halloween party to attend (remember those?). So that leaves us with funny and pithy, which is my least favorite costume categories, as I fall in the camp of girls who like to wear lingerie and ears. But desperate times, am I right? The only way to fight the sadness of not celebrating Halloween this year is through humor. Like I always say, if you're not laughing, you're crying. This year, let's throw it back with clever costumes that remind us of a time when Corona was still a cheap beer.
Here are 15 costumes if you'd like to dress up as "precedented times" in these "unprecedented times." Get it? Is this thing on? Precedented! (Work with me here. Like you, I've lost brain cells and dopamine in quarantine, and writing humor pieces isn't easy).
Baby's First Pride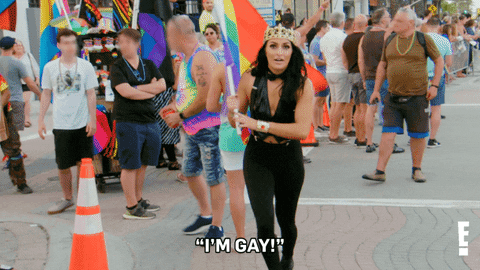 Remember when you were a fresh-faced baby gay? Before we had the looming threat of becoming the IRL Handmaid's Tale? Before you needed a night cream? Channel her. Honor her by drinking cheap vodka and wearing rainbow instead of all black. Throw your own Baby's First Pride in the comfort of you own home. Bust out the feather boa, Madonna playlist, and the blinding hope you once had. See? You're having fun already!
Freshly Broken-Hearted Lez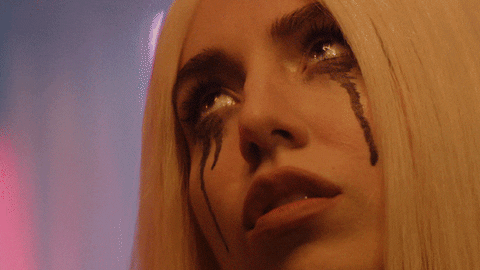 This one is super fun 'cause you get to wear a fluffy robe, drink red wine, and wail to the moon. I don't know about you, but I think a first lesbian heartbreak is kind of fun. You get to act completely unhinged and write bad poetry. To complete this Halloween look, you'll need mascara streaks, "Nineteen" by Tegan and Sara playing on repeat, and a vibrator. Don't forget to burst into tears right before you cum because you can't help but think about ~her.~ You're a one-woman break-up show! Come to think of it, you might already be doing this in quarantine, so this might be your easiest costume.
A Person With Serotonin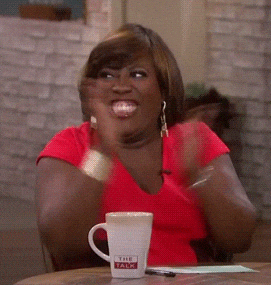 This one might be a little hard but use your imagination.
When you had a body that saw daylight and moved
You'll need one of these dark t-shirts that straight people think are hilarious. If your muscles are atrophied from quarantine and you are haunting your own apartment like the ghost of Dana Fairbanks, pretending to be on a beach might be impossible, but at least scroll through Instagram pictures of influencers on vacation.
Late For The Airport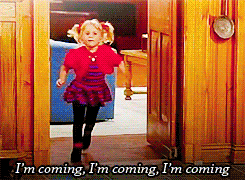 Ah, the underrated, pleasurable stress of being late to catch your flight to Dinah Shore. This one requires a bit of creativity, but I have faith in you. Pack your bags, set your alarm, make a coffee, and don't forget to panic and wonder if you left your straightener on as you are on the way to the metaphorical airport. Bonus points if you have a chapstick lesbian girlfriend to yell at you for never, ever being on time.
Dungeon Party Barbie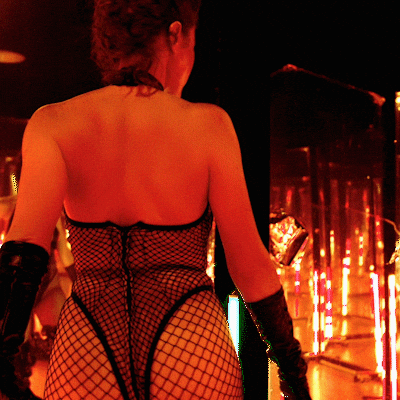 Kink and sex parties probably won't be a thing for, like, a really f*cking long time. So, fish your harness out of your closet and dig your hitachi wand out of your bedside drawerr and have your own party. Again, use your imagination. I'm trying.
Someone Wearing Actual Pants
If you're reading this, chances are you are in pajamas, sweats, or underwear. A true Halloween scare is promised if you try to put on actual pants (I can attest to this. I just tried on leather pants and I'm horrified).
The Obama Administration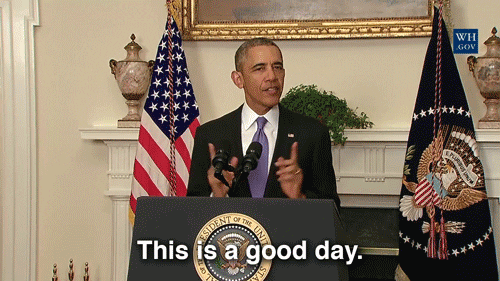 Pretend you are still safely and comfortably nestled in the Obama era and that the world isn't one huge dumpster fire. The closest way to properly pull off this costume is to VOTE!
Anyone But Carol Baskin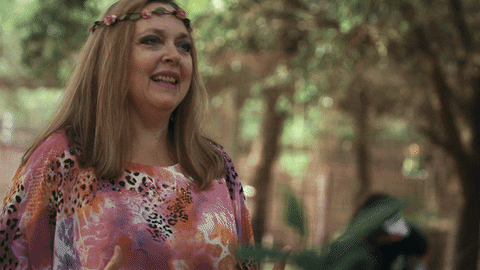 Believe it or not, there was a time before "Tiger King." Pretend like it's pre-quarantine times by being literally anything besides a "Tiger King" Character.
A Slutty Banana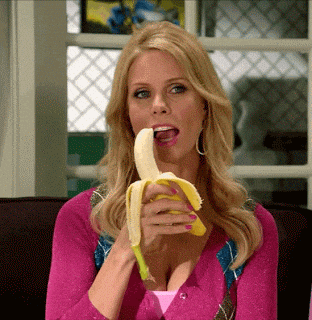 Bananas really miss being used as a phallic symbol rather than for copious amounts of banana bread. Be a slutty banana and give them a break. A tribute to icon Josephine Baker costume also works for using bananas in a sexy way.
A Queer At An Open Mic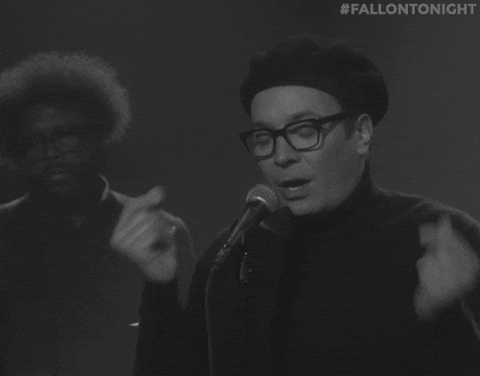 Just start riffing on everything you can think of with really intense anaphora and inflection.
LIFE IS this pile of candy corn, never able to satiate me
LIFE IS my wine glass filled with desire and regret
LIFE IS the empty toilet paper roll in the bathroom
LIFE IS an endless Netflix binge into the abyss
LIFE IS my Amazon cart of empty promises and cheap thrills
LIFE IS my ex-girlfriend who blocked me on Instagram
LIFE IS…. quarantine.
*snaps*
Social Anxiety Instead Of Zoom Anxiety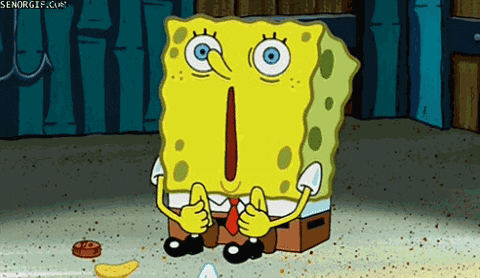 For this one, you'll want to stop your SSRI meds to get the full anxiety experience (JK, don't do that and don't sue me). Squeeze into your sexy patent leather leggings you haven't touched in almost a year, pour yourself a glass of wine, then pretend you're on a date with your cat. Anything is better than another f*cking Zoom meeting that could've easily been a phone call.
A Pre-Zoom Séance 
Pre-quarantine, a séance was probably more along the lines of "light as a feather, stiff as a board." Now it's more like, "Karen, we can hear you but we can't see you." "Trisha, are you there? Can you hear us?" "Are you connected?" Throw it back to before you had to tell Jan from accounting to mute herself for the millionth f*cking time and bust out a Ouija board and try to connect off of Zoom. I am not responsible if any evil spirits start knocking shit over.
Waiting for the bathroom at a lesbian bar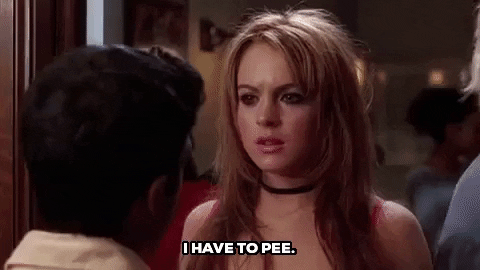 Stand outside your bathroom and imagine a cranky dyke giving you the evil eye 'cause she wants you to move away from the jukebox so she can play The Indigo Girls. Don't forget to squat!
The Inexplicably Scared Woman In The Peloton Commercial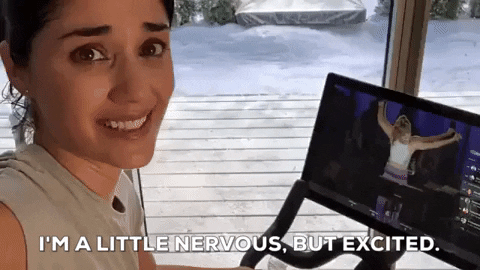 Remember we used to meme her? Now we are her.
Having a sense of humor, sanity, motivation — anything
Again, use your imagination.
We will get through these times, lesbians, and we will dance together again. We will dress as slutty maids and "The Haunting of Bly Manor" characters and clink vodka sodas together while "Rain On Me" by Lady Gaga plays. I promise. Until then, don't forget to laugh. And vote! xo