This time, it's my dream celesbian couples—some of whom, I admit, are a bit of a stretch. Not everyone on this list is a lesbian; not everyone is even necessarily queer. However, in a perfect dream world filled only with women, these are the couples that my little lesbian brain would flip over. (And to answer your question: yes, I found a way to include Cate Blanchett, of course.)
Hayley Kiyoko and Kehlani  
This one is relatively obvious. I mean, ever since the "What I Need" video came out,  it's all I've been thinking about. In the world created by this music video, I imagine that they live happily ever after, surrounded by bales of hay and romantic sunsets. They might buy a house and a plot of land to start a little organic produce farm. I can already see them having a date night every Friday and camping in Joshua Tree for their anniversary. 
Christine and the Queens and Kristen Stewart
Kristen Stewart's dating history raises a lot of questions for me because I still debate actively whether or not she's legitimately an interesting person. I see Kristen and Chris together mostly because I think Chris would force her to stop saying the dumb shit that makes her slightly problematic. You know, white woman to white woman. Chris would drag her to intersectional feminist symposiums and explain that Woody Allen is bad.
Aubrey Plaza and Alia Shawkat
Aubrey Plaza is one of my favorite weirdos, and I truly believe that she and Alia Shawkat would have the wildest conversations in the world—both because of their general personalities and their sense of humor. The inside jokes would be unmatched. No one would even be able to keep up with them. Plaza would do things like sending Shawkat anonymous letters written in blood. For Halloween, they would dress up as Megan Fox and Amanda Seyfried in Jennifer's Body.
Zendaya and Syd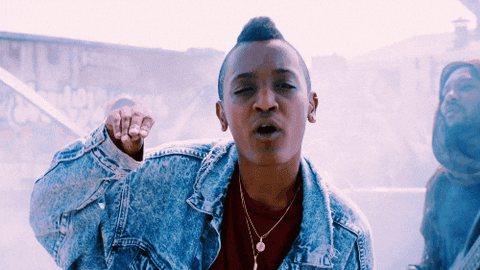 The red carpet looks that would come from this relationship are actually unfathomable to me. The Met Gala would be their blank canvas, and they would make beautiful art together. I can also see them making music together. I think their voices synthesized would sound like butter melting on toast. Not only that, but Zendaya would definitely make an appearance in a music video for The Internet.
Zoe Kravitz and Ilana Glazer
I exclusively watched the white version of Girl's Trip because I knew Zoe Kravitz and Ilana Glazer were gay for each other in it. It makes perfect sense: Glazer the frothy comedian, Kravitz the sultry actress, traveling together and just being completely obsessed with each other. They would spend their days arguing about everything and nights sneaking into community pools even though they have access to a private pool, just because. They would definitely be on and off but ultimately come back to each other.
St. Vincent and Robyn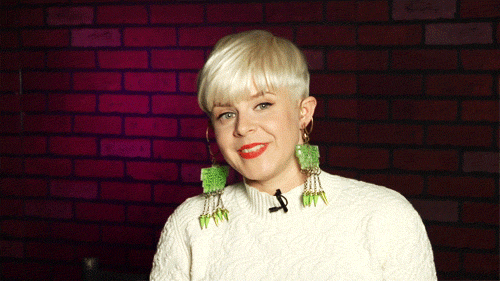 Not to be sadistic, but I only want this to happen so it can end. To say that the music that would come out of this breakup would be incredible is an understatement. Both of their breakup albums would be deep and thoughtful reflections on life, love, sexuality, and humanity coated in slow synths and sultry guitar riffs. They would never speak a foul word about each other in interviews—only mention how lucky and grateful they were to have known and loved each other.
Rihanna and Anne Hathaway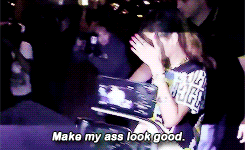 This is the femme-for-femme couple that I need to have actually happen. Like, somebody go find a witch or a genie or something to make this real. I knew this would be my ultimate dream pairing when Anne Hathaway appeared on Ellen and talked about how excited she felt that Rihanna complimented how great her ass was. This would also be a relationship of iconic red carpet moments and magazine covers. The mere thought of it never happening is legitimately stressing me out, so I have to stop now.
Winona Ryder and Angelina Jolie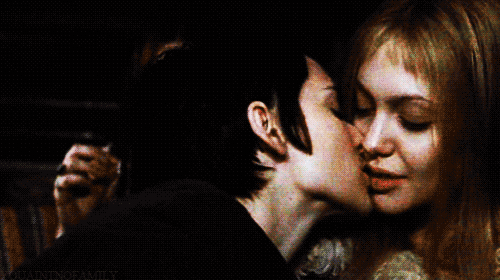 I'm just going to say it: Winona Ryder and Angelina Jolie should be the ones adopting a million kids together. They have such compatible energies. I can't imagine what they would talk about; I have no idea what either of them likes, and I am not even remotely aware of their interests and hobbies. However, I do know that Winona Ryder is not a great enough actress to fake that reaction after she kissed Jolie in Girl, Interrupted. So that's that on that.
k.d. lang and Cindy Crawford
View this post on Instagram
Frankly, in my mind, the two of them perpetually exist in that 1993 Vanity Fair photo shoot where Crawford pretends to shave lang's face. They sometimes step outside the magazine to attend lesbian events at gay leather bars where lang spends the night downing PBRs while Crawford chews gum and plays with her hair and dances a little too hard to indiscernible rock music. Can't you just see it?
Cate Blanchett and Sandra Bullock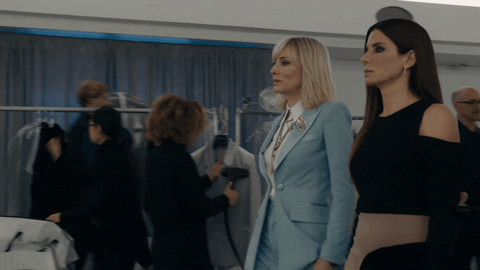 All I have to say about this one is: The scene after the heist in Ocean's 8 where Blanchett is wearing that sequin jumpsuit, right before she gets onto her motorcycle? That scene. The look she gives Sandra Bullock from across the street is worth a thousand words. Some of those words include: I love you, and we should spend the rest of our lives together being criminals and never getting caught because we're smarter than everyone, and if we do get caught, our love will help us escape prison.
Now that you've had a glimpse of my dream celesbian couples and the imaginary lives I've created for them, please share yours in the comments!