We are entering a new age of queer women relationships being represented on screen (finally!). If you follow queer media, then you probably know about The CW's "The 100," where beloved queer character, Lexa, was killed off. While this devastated viewers, it was the catalyst for long overdue conversations about queer representation, and sparked the amazing queer women in media convention, Clexacon. Now, The CW is getting queer women representation right, with so many badass LGBT babes featured on TV now!
Here's a list of every queer character currently on The CW. Fire up the popcorn, snuggle up with bae, and pop on your TV for some seriously amazing Sapphic characters.
Anissa Pierce played by Nafessa Williams in "Black Lightning"
A lesbian superhero. For some of us those truly are the "three little words."
"Black Lightning" features Thunder, aka Anissa Pierce, the eldest daughter of Jefferson (Black Lightning himself). She starts out with one gorgeous girlfriend, Chenoa, and when that doesn't work out, she winds up meeting Grace Choi, local bar owner and gorgeous bookworm. All that and she's a part-time teacher making her way through medical school. Truly something for everyone all in one amazing woman.
Throw in the fact that she's almost invulnerable and can literally blow people away? She's a keeper.
Alex Danvers played by Chyler Leigh in "Supergirl"
Her sister might be the official superhero, but Alex has never needed alien powers to kick all kinds of ass. Whether she's smashing a villain's face into his own desk, backflipping off a skyscraper, or just playing with her beloved arsenal of scary laser guns, she's always slaying.
With one of the most moving coming out storylines on television ~period~, Chyler Leigh has committed to this character development like the best kind of ally. Seriously, if you're not out yet, just play her heartfelt speeches to anyone you need to tell – it gets the job done beautifully.
Sara Lance played by Caity Lotz in "Legends of Tomorrow"
Every now and then, you need a lady that you can salute and call "Captain," right? One who has a husky voice and abs you could play the xylophone on?
Sara first appeared on our CW screens over on "Arrow" as the Canary. One presumed death later she was riding with the Legends, traveling through time and livening up history through flings with Queen Anne and Guinevere, amongst others. While some will forever ship Sara with her ex, Nyssa, there's a brand new ship in town known as Avalance (see Ava Sharpe, below).
Ava Sharpe played by Jes Macallan in "Legends of Tomorrow"
Sharp suits and a no-nonsense attitude. A stickler for the rules who'll bring down anyone who doesn't go by the book. In other words, a perfect foil for Sara Lance. Enemies-to-lovers is one of the hottest tropes of all time, and seeing Ava bend the rules to get roped into Sara's crazy time shenanigans is why so many viewers are obsessed with this relationship. Plus, they look totally hot dressed up as Vikings.
Even with recent complications in their plot, the news that Jes Macallan has been upgraded to a regular cast member for season 4 suggests that more Avalance fun and drama is on the way.
Luisa Alver played by Yara Martinez on "Jane the Virgin"
"Jane the Virgin" has brought the representation right from the start, and this time Luisa gets to fall for a genuine bad girl.
With one season left before the show ends for good, will she get her wickedly happy ever after?
Petra Solano played by Yael Groblas in "Jane the Virgin"
This is a show that breaks the mold. Not only does it feature a queer relationship, it features multiple queer women!
While Petra might have started the series as Rafael's wife, popped out a couple of twins, and had a semi-disastrous past with men, her romantic life finally took flight when she met a second Jane (Ramos), known as JR. Their relationship has been sizzling ever since.
Cheryl Blossom played by Madelaine Petsch in "Riverdale"
While we have to admit we were hoping for the possibility of Betty and Veronica getting together, we can still obsess over a different, equally as hot, queer relationship in "Riverdale."
Toni Topaz came along in season 2, and got together with Cheryl. Whether pairing up as dateless singles to see a movie, or sharing sleepovers and kisses, the pairing has also crossed into dark territory with the specter of conversion therapy looming over Cheryl. Hopefully happier times are ahead in season 3.
Clarke Griffin played by Eliza Taylor in "The 100"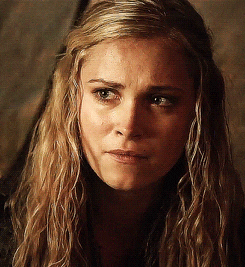 Okay, a lot of people stopped watching after our beloved Lexa died, but the fact remains that bisexual Clarke is still going strong as "The 100" marches into another season.
Dearly Departed: The Queer Babe Characters We All Miss!
Maggie Sawyer played by Floriana Lima in "Supergirl"
The first official lesbian on "Supergirl" (and Alex's big gay awakening) is hopefully not so much departed as Missing In Action. If producers listen to fans, she'll be back by popular demand in season 4.
If Detective Sawyer makes it back to National City, her legion of fans (and Alex) will be all too happy to see both her leather jackets and her dimples. Not to mention, Maggie is the smoothie who gave us the iconic line, "We should kiss the girls we wanna kiss," seen on placards everywhere.
Lexa played by Alicia Debnam-Carey in "The 100"
The catalyst for the Bury Your Gays protest, the killing off of character sparked international lez outrage. Unlike Maggie (above) there's no chance of a return for this iconic character, but her legacy certainly lives on and inspires more happy queer representation.
Coming Soon?: Queer Characters To Be On The Lookout For 
"Charmed"  The reboot of this girl power show will now feature a lesbian Halliwell sister. That's more like it! The show will be joining Supergirl in the lineup, which is moving to Sunday night.
"Supergirl"  A casting call went out earlier this summer for a trans actress to play a new trans character in season 4.