It's a tough time to be a queer woman in America, isn't it? As someone with an anxiety disorder that's only been exacerbated by the news cycle, I've been frantically searching for coping methods. So what's a woman to do when everything around her is problematic, when Brett Kavanaugh is on the Supreme Court, and she has a panic disorder? This is what she needs to do: binge-watch The Great British Bake Off.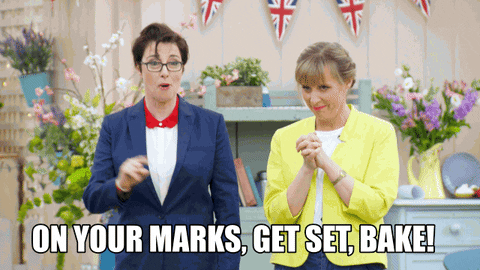 Why, you ask? Because it is gay AF and scientifically proven to help cope with anxiety. Here are 10 reasons why The Great British Bake Off is not only inherently queer but also medicinal for the anxiety that we, as a population, are facing.
1. The food… obviously.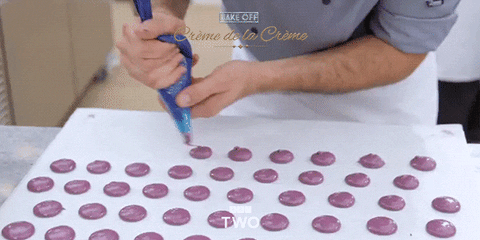 Since the premise of the show is literally a bake-off in this giant tent in the middle of the English countryside, there are obviously a lot of gorgeous confections. What I appreciate about this, though, is how quickly the show turns you into a snob. The first time I watched the show, I had no idea what a sponge is. By episode 2, I'm suddenly screaming at the television, "The buttercream! The buttercream! It's too bloody runny, innit?"
2. Oven watching.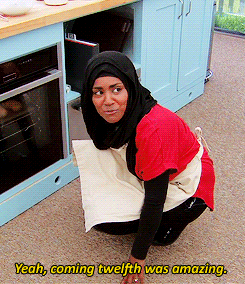 OK, OK, hear me out. I don't know why, but there is something strangely therapeutic about the fact that 78 percent of the shots in this show are shots of the contestants worriedly watching their ovens. It's nice to know that while I'm all curled up with hot tea underneath my anxiety blanket, somewhere in Britain there are people nervously crouched in front of their ovens.
3. Contestant extracurriculars.
The British do everything better, and this includes hobbies. On American shows, contestants have dumb hobbies like watching Netflix (@ myself) or shopping. On The Great British Bake Off, however, the contestants have the best hobbies. For example: "I collect Tasmanian postage stamps" or "I am a clothing designer for toddlers." Or the best one so far, Kate, our queen from Season 5, an ACTUAL amateur blacksmith (which is also extremely gay).
4. Words that have absolutely no meaning to me whatsoever but sound really nice because: British accent.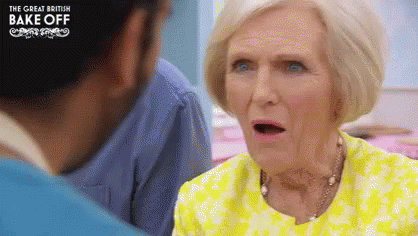 Words like scrummy, cling film, plaiting, baps, sultanas, Jaffa cake, an Eton Mess, Sacher torte, Vol-au-vents, entremets, savarins, dampfnudel, and clootie dumplings (which are shockingly not a metaphor for your lady bits). I love how confused this show has me. It's truly humbling. For the love of Sappho, what is the difference between marzipan and frangipane? And the greatest enigma of all? What does pudding mean to the British? Is it a dessert? Is it a savory meat dish? No one fucking knows.
5. No prize money, no book deal, no confetti, no promise of fame or fortune.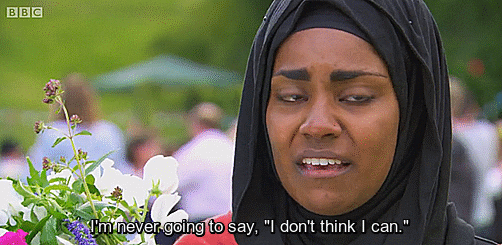 Just a cake stand and flowers. I find this fact particularly hot—a real sexy fuck you to American materialism and capitalism.
6. Farm animals.
Everyone knows the gays love farm animals. (There's a reason the term "farm butch" is an actual thing.) Maybe with the queers in mind, the editors of the show include dozens of shots of the English countryside: of sheep, cows, ducks, and just a lot of shots of rain.
Let me tell you, the effect is comparable to Xanax.
7. Allow me to butter your biscuits.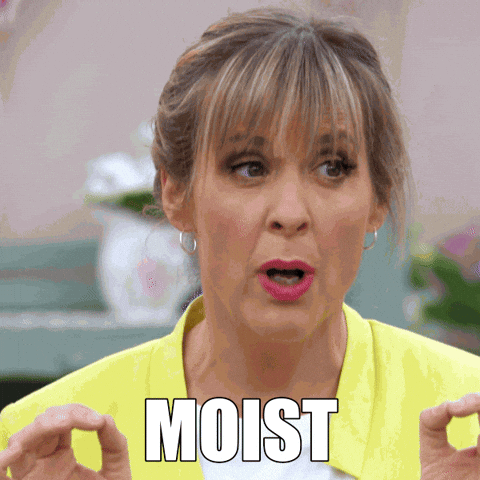 The contestants and hosts of this show are incredibly clever at double entendres. So clever, in fact, that I sometimes wonder if the quips are scripted. You know who else is good at sexual innuendos? The gays. Which is exactly why the Twitter account I'm about to gift you with will blow your mind. I recently wrote this tweet.
My grownup Christmas list: free therapy, free CBD oil, job where I get paid to watch The Great British Bake Off

— Hannah (@hannahbrashers) November 27, 2018
And who should favorite my tweet but an account called @sexybakeoff. You heard me correctly. All of the tweets are quotes from the show. A few of my favorites?
this didn't get the finger treatment at all

— Sexy Great British Bake Off (@sexybakeoff) November 24, 2018
it is very wet. is everyone else's not?

— Sexy Great British Bake Off (@sexybakeoff) November 26, 2018
With only 63 followers currently, this account is a hidden gem. You're welcome.
8. Kindness???
I add three (3) question marks after the word "kindness" because in America (especially Tr*mp's America), I don't even know the word's meaning anymore. Kindness? Who is she?
If there is one thing queer women are in desperate need of it's kindness and this show has plenty of it. While American reality shows are full of competition and back-stabbing, these very British contestants truly care about each other. Whenever time is running short, the contestants like…help each other? And even in Season 2 when shady-ass Deborah "accidentally" used Howard's cream, she then spent the remainder of her time on the show trying desperately to make it up to him. (Howard was having none of it. Petty and I love it.)
9. The time America's queer sweetheart Ruby Tandoh went OFF on ugly-ass Paul Hollywood on Twitter.
Who can forget the gorgeous Ruby Tandoh? This runner-up from Season 4 spent the majority of the season making self-deprecating jokes and wearing adorable collared shirts. While not out while on the show, she came out in 2015, and in September of 2018 she married her partner in a gorgeous gay wedding.
The real tea 'twas spilleth in 2016, though, when Ruby went off on Paul Hollywood for being egotistical and materialistic. Some of the highlights (which have now been deleted since Tandoh is no longer on Twitter) include clever digs like "We locked in battle with a mythic beast, both bright white and mahogany, man and baby, ego and terrible, terrible fragility all at once." and "This, from a man who turned up to work revving a rental Lamborghini. or was it a Ferrari. I don't remember, the air was thick w testosterone." The fight ended in Hollywood blocking Tandoh. Weak!
10. Gay.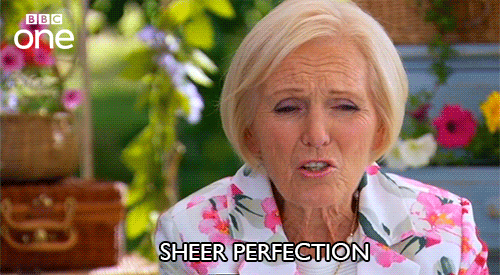 The Great British Bake Off is inherently gay, and no one can tell me otherwise. Of all the shows on television (except maybe The L Word), this one has the most representation of queer contestants. In each season, there are a handful of queer contestants whose identities as queer people are never tokenized. Instead, these identities are normalized in the most beautiful ways. There's always that one lesbian contestant that I'm jealous of. She always has the coolest name, she's always from a village with some magnificent name, and she's been with her wife Rosie since meeting her at an antique furniture club 15 years ago.
And how can we forget the delightfully ill-fitting clothes and wonderfully awful puns of The Great British Bake Off's favorite lesbian host Sue Perkins? Since Perkins stepped down in 2016, a new lesbian has stepped up to fill her shoes, and it's the charming Sandi Toksvig. What more could queer women ask for?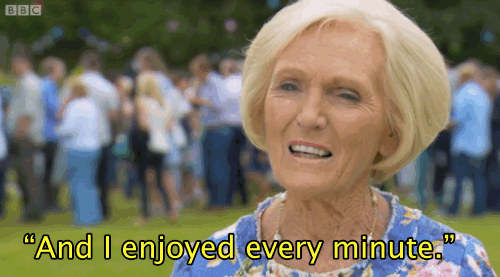 So, in conclusion, if you've been having an urge to text your ex-girlfriend, if you're unhappy about the current state affairs, if you have anxiety or depression, or if you are experiencing a four-hour edible-induced panic attack (this definitely did not happen to me), then The Great British Bake Off might be just for you.
BUT WAIT! THERE'S MORE. If you call now, your order of the complete Great British Bake Off Collection will come with a free therapy session, hot tea, and a cute partner to cuddle with because it's cuffing season, ladies.