Hello again.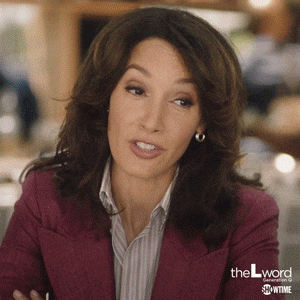 I'm still reveling in the glory that was "The L Word: Generation Q." (Especially now that I'm indefinitely stuck in my apartment.) The series has been renewed for a season two, and though it might be delayed due to, well, everything, all the more time for me to plot my wishlist! 
We were obsessed with the first season. We got to see Angelica (Jordan Hull) go from repressed private school-kid to liberated public school student with her first girlfriend and a knack for moving scenery in the dark, Bette's (Jennifer Beals) historic and drama-ridden mayoral campaign, and Alice's (Leisha Hailey) TV show that at times was totally inexplicable but always fun to watch. Not to mention Shane's (Katherine Moennig) incredibly gorgeous wife Quiara (Lex Scott Davis), actual polyamory, and legit hot sex scenes. Here's what I'd love to see much more of in "Generation Q" season two.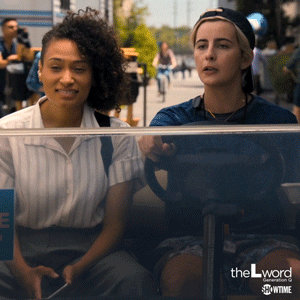 Queer Nerds
As a voracious reader myself, I absolutely loved the shots of Sophie (Rosanny Zayas) reading Chloe Caldwell's neo-lesbian classic "Women" at her ailing grandma's bedside. Though while the character's circumstances were less than ideal, it was fun to see a character indulging in pure queer bookish escapism when she needed it most. In fact, I was previously unfamiliar with the book, and looked it up because of this scene. Let's have more characters reading more queer material and support the authors we all should be reading!
Hot Sex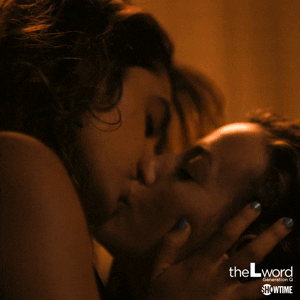 I'm still thinking about the threesome of girlfriends Alice (Leisha Hailey) and Nat (Stephanie Allynne) with Nat's smokin' ex Gigi (Sepideh Moafi). Think about it: we got to see masturbation and hear copious moans, not to mention bask in the fantastic payoff of mounting sexual tension among the trio. Or what about the incredibly sweet tryst of Sophie and Finley (Jacqueline Toboni), after hours in a dressing room on the "Alice" set? Full of giggles, sobs, and rainbow-colored undies, nothing says "queer lady sex" more. Team Sinley! Finally, I yelled "daaaaamn" at the show's very first scene, where a nude Sophie experiences multiple orgasms thanks to her girlfriend Dani (Arienne Mandi). I can't get enough of the prolonged, beautifully-filmed hotness, and I hope to see a lot of it in season two.
Polyamory Please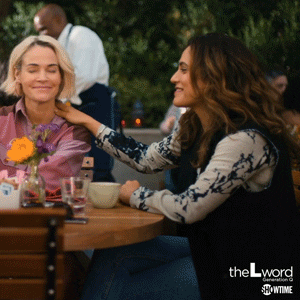 For a while, "Generation Q" had something the original "The L Word" would have only dreamed: a real-life THROUPLE! The above-mentioned threesome kicked off Alice, Nat, and Gigi trying to make a go of — and actually succeeding at — coparenting, sharing a bed, and deciding when to watch the new episode of "Below Deck." Though it didn't last (more about that later), I found the representation of polyamory in "Generation Q" — hell, acknowledgment that polyamory exists — both refreshing and fun as hell to watch. (And though it was never shown, Quiara alluded to her and Shane's marriage not being "traditional." We all know what that means: Shane is not a monogamous person!) What about a polyamorous relationship that goes the distance?
The Trifecta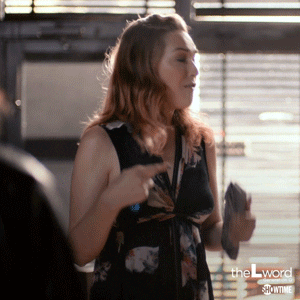 Besides the delightful mix of original "The L Word" characters and the new kids on the block of "Generation Q," the latter also gifted us with a handful of lovely supporting players. My absolute favorite was Jamie Clayton's recovering alcoholic bar manager Tess. As sweet and colorful as her pink hair and flawless eye makeup, Tess was equal parts chatty and vulnerable and definitely deserves her own major storyline, and charismatic Clayton knocked it out of the park. Though Quiara became a bit of a cliché by the end, Scott Davis shone as Shane's empathetic and driven spouse. Did I mention how hot she is? And Brian Michael Smith, playing Bette's trans campaign manager Pierce, was dapper in his suits and snappy with the quips, giving me bisexual heart-eyes at every turn. Hey Bette, bring your best employee with you on your next endeavor!
ANGELICA, who deserves her own blurb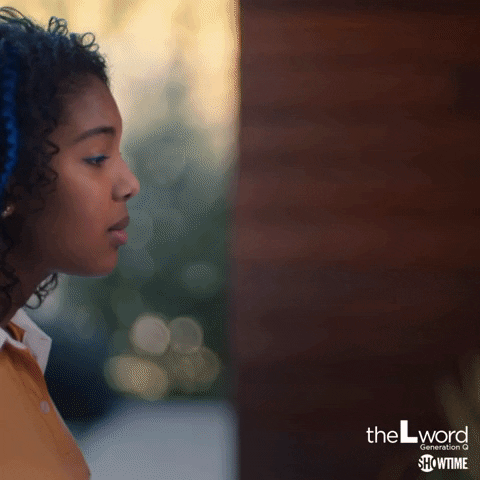 I really cannot get enough of this cute-ass kid (and I don't always like child/teen characters, so that's saying a lot). Both the writers and actress Hull give Miss Porter-Kennard a realistic and thoughtful intelligence — she has two hella accomplished mothers, after all — not to mention a healthy dose of age-appropriate rebellion. Who didn't love watching Angie cut school to hang out, vape, and blast music with her crush Jordi (Sophie Giannamore)? Talk about adorable, even if Bette did confiscate Angie's phone as punishment as any good mom would. Plus, watching Angie come into her own as a queer young woman and end up with her very first girlfriend was equal parts gratifying and heartwarming. I'm totally up for The Adventures of Angie and Jordi Volume 2!
Original "The L Word" Cameos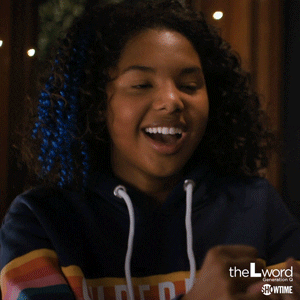 I am not a Tina fan, and I know I'm not alone. But damn if I didn't scream my head off when Laurel Holloman showed up to spend time with her ex-wife and their teenage daughter. Props to the "Generation Q" team for keeping this guest appearance under wraps, though you damn near gave me a heart attack. Why stop with Miss Kennard? In season two, I'd love to catch up with badasses Tasha (Rose Rollins) and Jodi (Marlee Matlin) and maybe even Sarah Shahi's devastatingly sexy Carmen de la Pica Morales. C'mon, we all know Tasha's got her own butch security firm, Jodi's racked up the art awards and the girlfriends, and Carmen is still freaking gorgeous. What's the gang been up to since Jenny met her fate at the bottom of Bette and Tina's pool? The suspense is killing me!
Bisexuality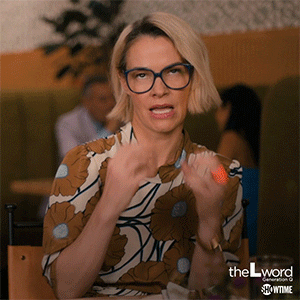 "Generation Q," I'd adore seeing more representation of my people. You've done a great job showing us different sides of Bette, Shane, and Alice, and the fabulous crew of younger folks. Why not take it even further (and more chaotic), with a cool new bi character?