Every girl who likes girls knows that kissing another woman is one of the best things in life, and nothing comes close to the electrifying feeling that it brings. In celebration of that, we've curated a list for you of 16 of the best lesbian movie kisses to ever exist. Of course there's a ton to choose from and ranking them requires a bit of personal taste, but we assure you that some of the most intense, heartwarming and sexiest sapphic kisses are featured down below. Feast your eyes, babe.
16. Alison Folland and Leisha Hailey, "All Over Me" (1997)
An exploration of the riot grrrl scene, "All Over Me" features an emotional coming-of-age tale that's crafted with authenticity. Claude meets guitarist Lucy at a lesbian bar where her band is playing, and a wonderful connection blossoms from there. Who wouldn't fall for a pink-haired Leisha Hailey?
15. Guinevere Turner and V.S. Brodie, "Go Fish" (1994)
Rose Troche's "Go Fish" is an innovative drama that celebrates lesbian culture with an excellent group of characters, including Max and Ely, whose romance is followed throughout the film. Capturing awkward beginnings, an unexpected first kiss and a connection that ends up thriving, their relationship is a testament to the fact that love is out there waiting to be grasped, whether you know it or not.
14. Natasha Lyonne and Clea DuVall, "But I'm a Cheerleader" (1999)
In Jamie Babbit's beloved lesbian comedy, a relationship eventually forms between Megan and Graham at True Directions, a conversion therapy camp. Acting on their mutual crush in a place that condemns same-sex attraction takes an extreme amount of courage. And how damn sexy is that lip bite?
13. Michelle Krusiec and Lynn Chen, "Saving Face" (2004)
The lesbian romance in Alice Wu's "Saving Face" focuses on acceptance, conquering fears and challenging cultural expectations. Wil and Vivian's choice to share a kiss during a public event demonstrates both of their utter bravery.
12. Sara Foster and Jordana Brewster, "D.E.B.S." (2004)
Angela Robinson's "D.E.B.S." owns one of the greatest romances to enter the world of romantic comedies. Opposites attract between criminal mastermind Lucy Diamond and leader of the miliary-like group D.E.B.S., Amy Bradshaw. Through a memorable kiss, Amy, who has been conflicted with her attraction to another woman, finally learns to accept herself.
11. Dylan Gelula and Brianna Hildebrand, "First Girl I Loved" (2016)
"First Girl I Loved" is a teenage coming out story that's both realistic and relatable. Awkward yearbook editor Anne falls for softball star Sasha, and a friendship quickly grows into something more. During a sleepover, they decide to sneak out to a bar, where they share their first kiss on the dance floor. Lush lighting enhances what is a truly euphoric moment.
10. Cheryl Dunye and Guinevere Turner, "The Watermelon Woman" (1996)
In "The Watermelon Woman" — the first feature film directed by a black lesbian — Cheryl Dunye not only created a groundbreaking, ahead-of-its-time narrative, but also one of the best love scenes in lesbian cinema. Smooth, forward flirtation leads into a passionate kiss and more, set to the chill vibe of Leslie Winer's "Skin."
9. Piper Perabo and Jessica Paré, "Lost and Delirious" (2001)
Léa Pool's "Lost and Delirious" is a compelling story of angst, obsession, first love and turbulent teen idealism. Before all hell breaks loose, Paulie and Tori's intimate moments are endearing and steamy AF.
8. Léa Seydoux and Adèle Exarchopoulos, "Blue Is the Warmest Color" (2013)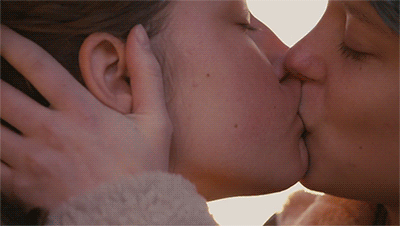 In nearly all of its events, "Blue Is the Warmest Color" defines uninhibited passion. Although the film has many scenes that involve kissing, there's one that focuses on it exclusively. The camera captures Adèle and Emma's faces close up, with the sun beaming on them and reflecting back at us, an amazing depiction of infatuation. *Swoon.*
7. Catherine Deneuve and Susan Sarandon, "The Hunger" (1983)
There's a multitude of lesbian vampire flicks out there, but "The Hunger" is undoubtedly the best of them all. Attempting to initiate Sarah into vampiric life, her and Miriam share an erotic encounter. The mesmerizing elegance of this scene will have a tough time escaping your mind.
6. Charlize Theron and Sofia Boutella, "Atomic Blonde" (2017)
Bisexual MI6 agent Lorraine Broughton enters a relationship with fellow spy Delphine Lasalle while on a mission in Berlin. Before things between them get deeper, the two women share a kiss under a nightclub's bold, neon lights. This is not only one of the hottest sapphic kisses in film from the current decade, but of all time.
5. Rachel Weisz and Rachel McAdams, "Disobedience" (2018)
Every kiss between Ronit and Esti in Sebastián Lelio's "Disobedience" is a force to be reckoned with, so it was tough to choose just one. But their eager alleyway lip lock displays the urgency of their rekindled love in a way that left me breathless.
4. Eili Harboe and Kaya Wilkins, "Thelma" (2017)
Blending elements of both romantic drama and thriller, Joachim Trier's Norwegian film "Thelma" features a unique, refreshing narrative. After the titular character, who comes from a religious family, begins to grow attracted to a girl at her college, paranormal abilities emerge within her. I could ramble on about how "Thelma" gave me the best cinematic experience of my life, but I'll leave you with this: the kissing scene at the Oslo Opera House might move you to tears, but ALL of them are filled with emotion that represents the intensity of love.
3. Helen Shaver and Patricia Charbonneau, "Desert Hearts" (1985)
Director Donna Deitch gave queer movie-goers what we've always dreamed of: a kiss in the rain. After lots of romantic tension between Cay and Vivian, witnessing them finally act on their attraction towards each other is incredibly beautiful. This "Desert Hearts" moment goes down in history as one of the most notable scenes in lesbian cinema for a reason.
2. Naomi Watts and Laura Harring, "Mulholland Drive" (2001)
David Lynch is a master of mystery and allure that always defies expectations. His ninth feature, "Mulholland Drive", has been called the greatest film of the 21st century — which it definitely is — but the film also contains one of the most complex and intriguing lesbian love stories to ever grace the silver screen. Betty and Rita's emotional kiss, and the words they exchange in between it, reveals more about the enigmatic narrative than you may think.
1. Gina Gershon and Jennifer Tilly, "Bound" (1996)
The intensity of Corky and Violet's romance in the Wachowski sisters' "Bound" is responsible for many lesbian awakenings. That's enough of a reason for their kiss to top this list, as well as the film overall being an unforgettable masterpiece.
What are your favorite lesbian movie kisses? Let us know in the comments below!