If you ever cared to learn the full LGBTTQQIAAP acronym, then you know that the very last "A" stands for "ally." And "allies" might be one of the last letters in this strapping acronym, but they are certainly still one of the most impactful groups in this big ol' delicious alphabet soup of a community we have. Real allies are kind of rare beautiful gems that are hard to find, but they really do leave a special impact on the lives of millions of marginalized people around the world.
Also, side note for the rest of you allies out there: One is only an honorable ally when one is named as such by the marginalized community they are serving – not when one self-proclaims to be an "ally" after wearing a rainbow pin for one day, or posting a black square on Instagram for a hot sec or worse, partaking in rainbow capitalism for one brief season a year. These very superficial efforts of activism don't cut it. 
And if celebrity allies really want to impress (and help) us queer folks out here, what they should be doing is leveraging their privilege and power to give all us disenfranchised queer kweenz all of the coins we so rightfully deserve.
Anyways, while the rest of us gays are busy being unapologetically gay and putting bananas, tacos, and other sensual items where our mouth is, we can surely take a moment to acknowledge a few liberal celebrity allies out there who are putting that mula where their mouth is. Here is a list of five famous allies who are helping us get one step closer to fixing that very not-so-cute gay wage gap:
Taylor Swift 
While Ms. Swift is not gay herself (as far as we know), she's done everything in her power to give us gays the platform we need and deserve. For starters, how could we ever forget her most political move to date? The "You Need To Calm Down" music video made headlines (and bank) just about everywhere with its anti-hate message and star-studded cast of "Queer Eye's" Fab 5, Billy Porter, Laverne Cox, and even lesbian Jesus herself Haley Kiyoko. This single project might not have single-handedly ended homophobia, BUT what it did do was lift our community up on a pedestal, tell haters to take several seats, and directly led to a spike in donations to non-governmental organization, Gay & Lesbian Alliance Against Defamation (GLAAD).   
In addition to making generous donations to GLAAD,  the pop star has made a notable donation of $113,000 to Tennessee Equality Project – and has even found the time to reinforce lesbian visibility by way of songs "Betty" and "Dorothy." To no surprise, her mysterious, ambiguous music has been left open to [queer] interpretation and imagination; and OH, we've been imagining things alright… . Yes, I am a hopelessly romantic lesbian, and yes, I am indeed happy (or should I say "gay") to feel seen by the one and only T Swizzle.  
Beyoncé
Like Swift, Ms. Sasha Fierce has also been honored at the annual GLAAD Media Awards. In fact, the 21-Grammy Award winner might just be the fiercest ally on our list. Her and husband Jay-Z have provided aid to many different causes over the years. The "EVERYTHING IS LOVE" couple has loudly showed its support in everything from legalizing gay marriage and protecting the trans youth via the "Y'all Means All" campaign, to unapologetically stanning Frank Ocean and Jay-Z's recently out lesbian mom. And if you aren't familiar with the "Y'all Means All" campaign it was a call to action by Beyoncé showing her dismay in North Carolina's discriminatory "Bathroom Bill" and urging fans to donate money to GLSEN. Between all the generous love and funds, Queen B is as good as an ally gets. And speaking of good, she launched her own foundation BeyGOOD in 2017 in a broad effort to make the world a better place. When this campaign isn't raising money for hurricane victims or those impacted by COVID, it's raising hundreds of thousands of dollars that go toward reaching gender equality worldwide. And the "Halo" singer has proven herself to be quite the angel by taking charge of the whole initiative and visiting the places and people in need to hand out school supplies, food, and other resources. 
Also, she's of course, executed tasteful performative events for the LGBTQ+ community – like creating a rainbow-themed "7/11" music video and getting in the "Formation" of a human pride flag onstage – as a treat! 
Barack Obama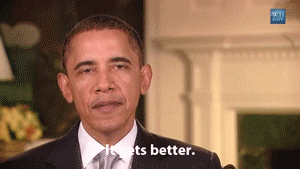 If there's anything we've learned in particular these past few years, it's that the bar for American presidents is on the absolute floor. Also, as a politician, Obama has: 
been in the business of lying and 

not always supported gay marriage 
It wasn't until 2006 that Obama started to think about possibly supporting gay marriage – which then eventually led to him becoming the first president to support gay marriage. 
The Democrat has also gone down in history for being one of the most charitable presidents ever, as he's donated over $100 million to charity during his presidency, helping keep foundations like GLSEN, Human Rights First, It Gets Better Project, and The Trevor Project going. So, with all this being said, I guess we can give some props to Obama for putting his money where his mouth is. 
Cyndi Lauper 
The "True Colors" singer has practically spent her whole career giving aid to disenfranchised folks. Over the years, she's raised money for LGBTQ+ charities via concert sales, fought against anti-LGBTQ laws like HB2, launched global campaigns in partnership with the United Nations – and even pioneered her own nonprofit, True Colors United, which works on spreading awareness about LGBTQ+ issues and ending youth homelessness, particularly amongst LGBTQ+ folks of color. According to the artist, True Colors United has raised over $3 million in the past decade. 
And she's not only putting her money where her mouth is, but is also never keeping her mouth shut! In a 2017 interview with Billboard she said, "You stand up for your own. You don't keep your mouth shut; you stand up. You tell your story and you allow other people to tell their story." 
Macklemore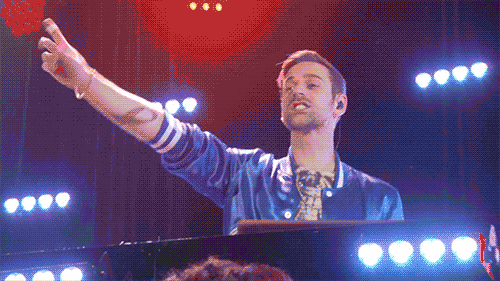 Remember him? If you don't, well then let us jog your memory real quick with the lyrics "When I was in the 3rd grade I thought that I was gay 'cause I could draw, / My uncle was and I kept my room straight."
Well, not only did the American rapper make one of the most beautiful songs ("Same Love") to ever exist in history, but he also pledged to donate the Australian earnings of said pro-gay marriage anthem to the Yes Campaign. And he did so with plenty of pushback from the country's public figures, too, which perhaps makes him one of the very few white cishet men to fight ferociously hard for the LGBTQ+ community with no utter shame. So, in this case, he's proven himself just worthy enough to make this rich list.