Sure, being gay or bi or trans can be really hard, but it can also be the most magical part about being alive. Being a lesbian can also mean having an excuse to miss some of the more painful social rituals our society expects us to participate in. Here are 15 parties our friends are less likely to torture us with:
1. Traditional bridal showers
Just because it's legal for us to get married does not mean it's legal for us to throw and/or attend the very straight version of a bridal shower. You are already getting a wedding, why must we suffer through your bridal shower? Luckily, most gays have the couth and style not to put their friends and family through a bridal shower, and therefore if you have lots of gay friends, you are less lucky to be invited. (Also, when we do have one, it's often all genders, and usually a drag brunch. Oh wait, that's a different thing.*) A pro tip: if you are the token gay in a group of straight women just really push the whole dyke thing so they consider you "one of the boys" and don't put you through any of the painful rituals that include Kool-Aid-flavored Bellinis and a wacky photo-booth station. Or worse, one of the many bridal shower games like the purse scavenger hunt, wedding movie charades, and the toilet paper bridal dress challenge.**
*This is not to be confused with a bachelorette event, which gays will attend as long as it is not at a drag show or other type of straight version of gay tourism™. ** Yes, these are all real games our editors have been forced to play.
2. Baby showers
Similar to the bridal shower, but perhaps triple in its divine torture, a baby shower is technically an option for queer people in the modern day — but it really shouldn't be. If you have cool LGBTQ friends, they likely agree that forcing a group of people out in the daylight on a weekend to bring you gifts and sit with your grandmother and watch you open diapers and nipple cream (not for kink purposes) and put pink bows on your head (also not for kink purposes) sounds more like one of Dante's circles of Hell than a nice afternoon. Gay or straight, you may simply tell your friends that you are too hungover sick and cannot attend. But be sure to send a lovely gift basket to the mother-to-be. You've got manners, haven't you?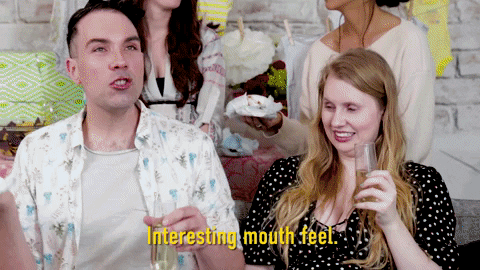 3. The highly structured, overplanned birthday party
This one might be confusing to the naked eye, as gay people love to celebrate life and each other, but I'm talking about a very specific type of birthday party. The coordinated birthday party. The month-long birthday party. The grown-adult-who-takes-their-birthday-way-too-seriously-birthday party. Gays don't like too much structure around partying as it sucks the fun right out of it. Queer birthdays should be like outfits for the club: thrown together at the last minute and absolutely iconic.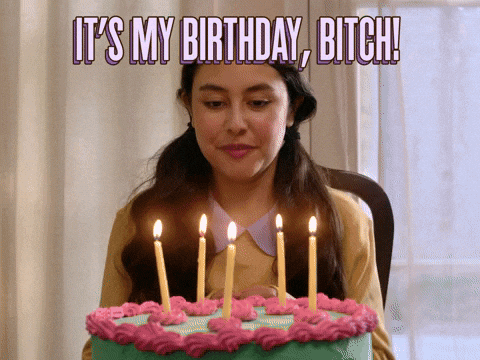 4. MLM parties
Men loving men parties? No, babe, I'm talking about Multi-Level Marketing scheme parties. It is scientifically proven that straight people are more likely to invite you over to try and sell you hand cream under the guise of a wine night. This is far more dangerous than it used to be, as these parties used to be named out in the open (ie: Tupperware Parties, Makeup Parties), but nowadays, MLM parties are lurking in plain sight. So next time a distant straight friend reaches out to you on Facebook and invites you over for a girl's night, beware. Say you are too gay to attend, otherwise you'll end up with $400 worth of aromatherapy, an Herbalife diet nobody needs, or worse — a closet full of LuLaRoe modest dresses.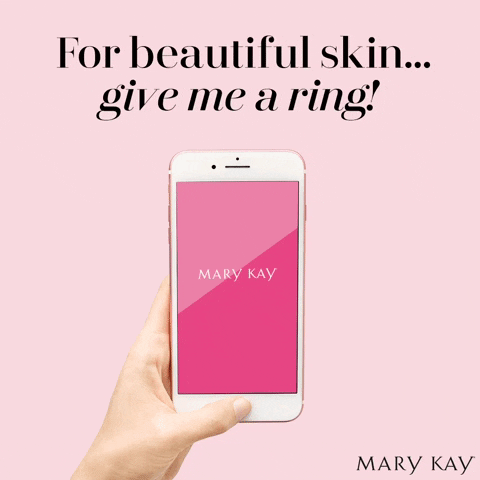 5. Sip 'n' paint parties
I know there is a certain type of crafty dyke that loves crafts (we singularly brought back kitschy paint-by-numbers sets), but I still maintain that paint-and-sip wine events are very heterosexual. When I was younger, I went to one hosted by my mom's Weight Watcher's group and they didn't even serve wine. (If getting drunk isn't on the table, why do it? I guess it was too many points.) Clearly, I'm still feeling some trauma there, but the bottom line is: if you are gay, you are less likely to be invited to sip and paint. We'll take Netflix and Chill or the more classic queer Chug and Chug situation.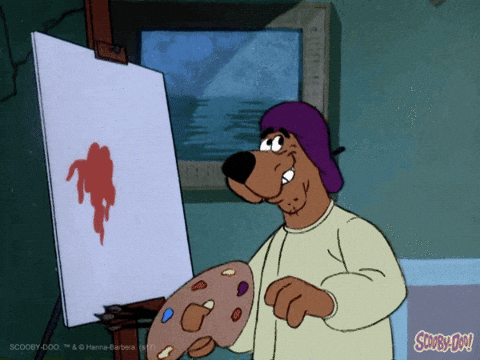 6. Frat parties
Depending on where you went to college, I'm going to venture that if you're queer or trans, the fear of getting hate-crimed probably kept you away from frat parties. C'est la vie.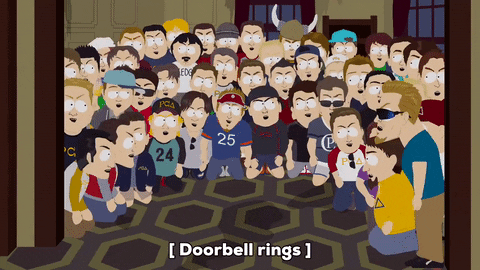 7. Cash bar weddings
Just. No. We didn't fight for our rights to marry simply to then charge our guests money to drink at our nuptials. Gag. And admittedly, some of us are way less likely to attend yours if there isn't booze. It's a little hard to pretend to be excited to hear Michael Bublé without a martini.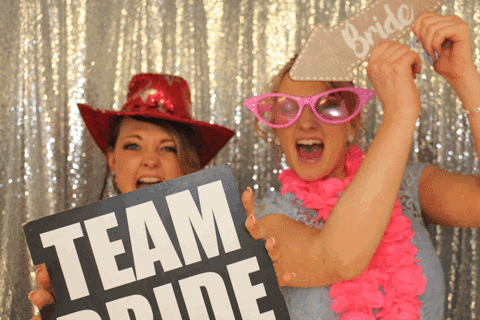 8. Housewarmings
Lesbians, we're just like you! We buy houses and rent apartments. Except we don't make it your problem to furnish them. (We furnished our own houses when we merged homes via Uhaul after the third date.)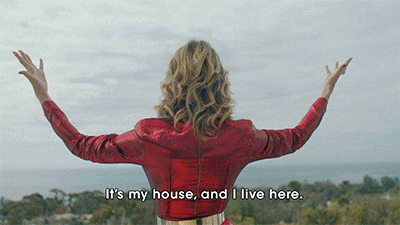 9. Coworker happy hour
Sorry, can't stay, have to run to the gay bar's happy hour!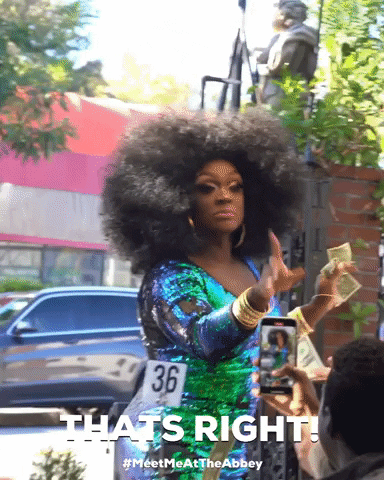 10. Sorority parties
See #6. *Please note exceptions for swagalicious mascs who fit in with frat bros and flirt with sorority girls. We'll come to your parties.
11. Secret Santa and White Elephant parties
Just…no. None of us want that ugly sweater or unscented old candle your aunt Mabel gave you three years ago. Let's just meet up and gossip instead. (I will say, though, one of our editors went to an all-lesbian white elephant Yankee gift grab where there were brand new sex toys, a photoshop pinup of a formerly closeted super dyke, and a much sought-after campy Elvis hat replete with mutton chops. That's a party we'd consider attending again.)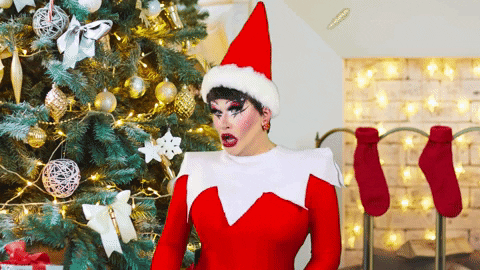 12. Friendsgiving
Gays love to be with their friends for extremely long dining experiences at least twice a week, so Friendsgiving is usually nothing special and comes and goes without acknowledgment.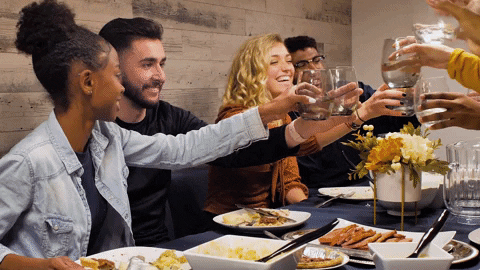 13. School reunions
Most of us have moved far away from our hometowns and have no desire to relive high school. Unless we got a lot hotter, then we go to rub it in.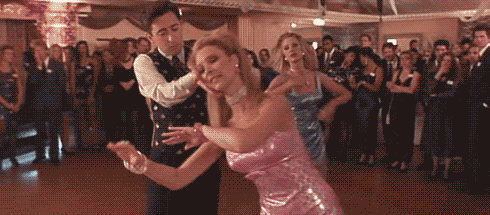 14. Kid's birthday parties
Gays understand that no one wants to go to your 5-year-old's party at BounceTown unless BounceTown is a new gay club. We will send a gift though! It may even bounce.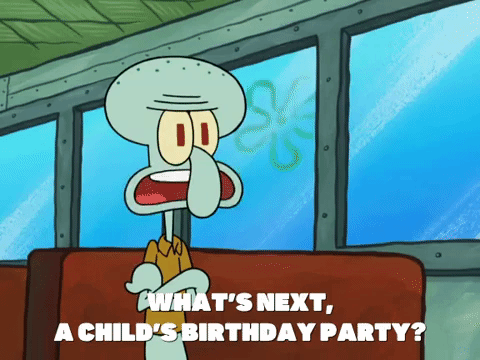 15. Gender reveal parties
Never mind the binary, now we know that these parties have also contributed to wildfires and animal cruelty. Leave us out of it, will you? Just go back to asking the doctor at the ultrasound and calling your mom with the news.