Hello lovers. Carrie Lezshaw here to help you land a threesome, if that's your thing. In college, I had a girlfriend who was way more adventurous than me and though she, like, totally crushed my heart, she also gave me tons of sexual confidence and experience. So now I can bestow that knowledge upon you. Minus the heartbreak!
Come, travel back in time and join me and my sexual-deviant-heartbreaker-girlfriend for an evening at our local college bar. We get ready—clip in our hair extensions, spray tan each other and smoke out our eyes. The more black eyeshadow, the higher the chance of a threesome. We always dress in the same variation of a skin-tight black dress. We arrive at the bar, both looking like the dyke princesses we are. We cheek kiss the hair gel-ed and tanned DJ. We take shots of tequila. The more tequila, the higher the chance of a threesome. We survey the room. We spot fellow dyke with pink hair and long eyelashes. She's wearing a leather jacket and hanging around a group of gay boys. She has a septum piercing (good sign). We make eye contact with her. She seems receptive to us. Fabulous!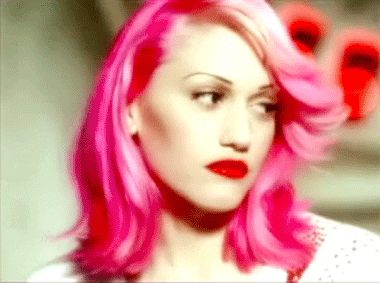 I'm not aggressive or good at picking up girls, so my version of hitting on women is complimenting them enough times until they think I'm straight. "I love your style!" I gush to her. My girlfriend is more forward than me, and though super femme on the outside, is low-key butch AF. "We think your hot," she chimes in. My girlfriend and I balance each other out quite nicely.
"Thank you," the pink-haired girl smiles. She looks us up and down and gives us one of those smiles. The coy we are all gay and attractive look.
My girlfriend's boldness always eggs me on.
"What are you drinking?" I ask, trying to not break into a smirk and eventually burst out laughing, as I'm wont to do when I'm nervous. I buy her a vodka soda. "Hopefully we'll see you later," Grace purrs. We always give our potential partner space. This is key. Then we sluttily dance and make out on the dance-floor and inevitably attract an annoying crowd of bros (tragic). Just to make sure our pink-haired friend knows the deal.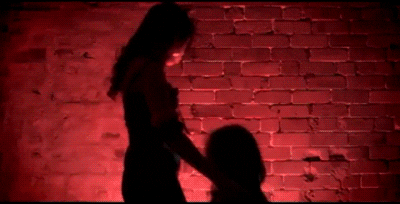 Later on in the night, we find her again, leaning against the bar, sucking back another vodka soda. It seems like she might've even been waiting for us.
"Would you like to come home with us?" Grace asks.
"Yes." Simple as that, seriously! I giddily burst into laughter because I am an anxious babe at heart, and even when super-hot things happen to me, I can't believe it. We go home and…oh, I'll save the details for another Lesbian Sex and The City, but let's just say it is hot. And, yes, I giggle the whole time.
This routine works for my girlfriend and I a lot. We even gain what one might call a…reputation.
Now, take my hand, and come back with me to the present so I can tell you how to f*ck two people at once in this helpful step-by-step guide. You're welcome.
1. DON'T BE CREEPY.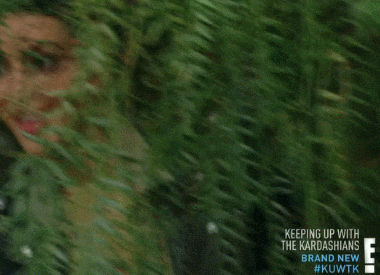 If you and your bae and looking to add a third for fun, don't be the creepy couple on Tinder harassing queer women. You hear me? YOU'RE ANNOYING. While there are most definitely women on dating apps that will be down for a little ménage à trois, please don't send a creepy message without saying at least "Hey," first. Basic manners here, people, but it needs to be said on account of the amount of threesome requests I get on Tinder. Anyway, forget Tinder for now. We're going old school human interaction, baby. I guarantee you will have more luck at a bar or club.
2. Collectively hit on whoever you're feeling.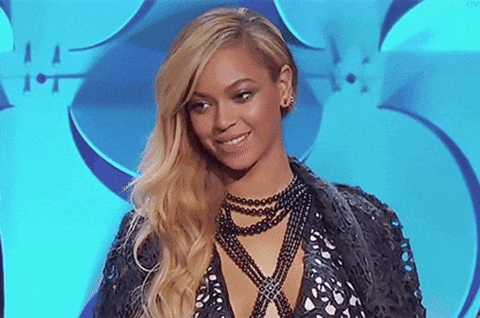 Balance out your flirting between whoever is more dominant and submissive. I'm making this gender neutral in case The Straights™ want to try these tips. Because I care about you guys, too. Sometimes. So back to the key-word, collectively, hit on the potential partner as a couple. So there is no confusion that this is a 2-for-1 deal.
3. Buy them a drink.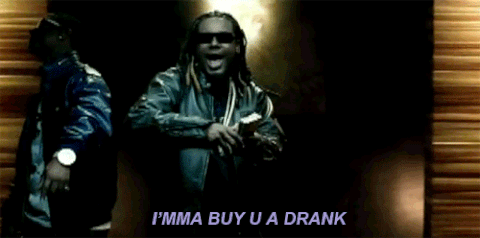 This is self-explanatory but I'm spelling it out because I think people don't realize it could be this easy. Ya'll out here making creepy Tinder accounts makes me think you haven't tried this simple tip. If you have the confidence and the social skills, threesomes are easier than you think.
5. Give space.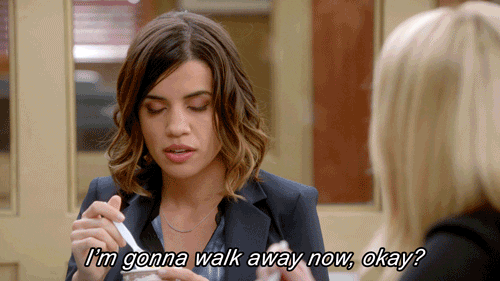 This one is important or you'll go back to seeming like the creepy Tinder couple. Let whoever you just hit on realize what is going on. Let them slyly smile to themselves as you both walk away when it hits them: two hot babes want to bang. Give them time to think it over. To drink more with their friends. To admire you from afar. Remember to give them a little bit of a performative make-out session, to really hammer the point home.
6. Return and flirt.
"How is your night going?" "You look sexy when you're sweaty." "Another drink?" If the vibe is right, perhaps a little ~arm touching.~
7. Ask a simple and direct question.
Be upfront, confident and honest. "Would you like to come home with us?" will work just fine.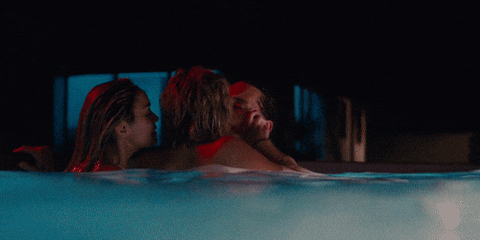 Like I said, these simple steps have proven successful. But I've also had really mediocre laughable threesomes. I mean, half of them were in a twin bed, so they're already laughable. Stay tuned for a less sexy piece on failed threesomes but for now, go forth and hit on thirds. Good luck, babes!
Have you had an epic threesome? Lez me know.