"The L Word" is where we go to observe the drama-filled, Hollywood lesbian lifestyle. From morning coffee with an incestuous friend group to a one night stand with a celesbian, the show let us see it all. (And we're obsessed!) Between the scandals and relationships, though, "The L Word" gave us something even more valuable than good entertainment: solid life advice.
With six seasons, there's bound to be some advice that will change your lesbian life. So, we've gone through all 70 episodes to give you the best pieces of life advice we got from "The L Word."
1. CHOOSE SOMEONE WHO'S READY
When you're playing the dating field, it's easy to get swept up in how someone makes you feel, but that can quickly become tangled up in how they actually act. I mean, just look at how Jenny treated Tim (yikes!). If you're a confident person, dating someone who's not quite sure about themselves can be tricky. It'll feel like you're constantly jumping through hoops just to make things easier for them, which will truly just make it more difficult for you. Only dating people who have themselves figured out isn't an easy thing to do, because we're all still figuring stuff out, but you should at least find someone who's on the same emotional level as you.
It'll make dating that much easier, and so much more fun.
2. HAVE NIPPLE CONFIDENCE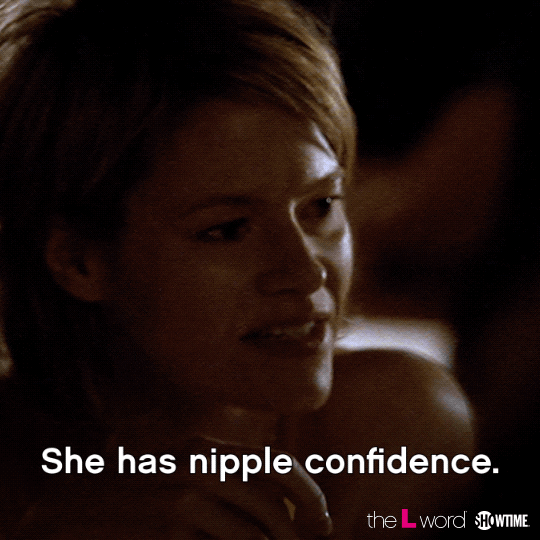 "The L Word" taught us a lot about what we deserve and how to demand to be treated, but it also gave us perhaps the best way to describe how someone carries themselves: nipple confidence. The predecessor to "big dick energy," nipple confidence means your nipples are nice to look at and you KNOW. IT. Of course, Shane has it, but the show also taught us that it's all about attitude. Your nipples don't have to be perfect—and neither do you—but as long as you carry yourself with an abundance of self-assurance in everything you do, you'll get whatever you want (just like Shane). That's nipple confidence, babe.
3. FEELINGS ARE HARD, BUT THEY MAKE US HUMAN
Although the show is jam-packed with sex and casual relationships, "The L Word" is also constantly reminding us that relationships exist! They even gave Shane—arguably the least attached character—a feelings plot! The importance of that wasn't just to make us marvel at how her heart grew three sizes that day, but more of a way to make us realize that feels are good. Feelings are human. Sometimes feelings lead us down a path of getting our heart broken, but it doesn't mean you should block your emotions. Instead, the show wanted to remind us that feeling is natural, and, if you let down your guard and allow your heart to feel, something good may just come of it. If it doesn't, at least it's a reminder that you're human.
4. WOMEN SHOULD BE THE BOSSES
There was a handful of arguably unrealistic plotlines in "The L Word," but something that rings true for the characters and all real-life ladies is that we know the power of pussy. Alice knows that women should be running the world, as all women do. "The L Word" reminds us that women know how to handle the weirdest and worst situations. Women are the best, most powerful, and they know how to get what they want. They should be running the world. Period.
5. HOW TO SPOT A LESBIAN
There are a lot of ways to spot another queer woman that we know now, but, back when "The L Word" was on, it wasn't as easy to spot unless you were sporting the Shane look. When Dana starts to fall for Lara, the red-headed chef, there's a bit of uncertainty about her sexuality. Of course, the squad comes to the rescue and helps Dana sus out the situation. The scene is comedic genius: sitting at separate tables (but still, like, right next to each other), each character points out something about Lara that may qualify her as a queer woman. From her kitchen shoes to her earrings (hoops—hard to tell), every woman watching quickly learned how to spot another lesbian. And, hey, if making a straight or lesbian list doesn't help you, you can always send in your sexiest friend to seduce her. Or, better yet, you could just ask.
6. WE FALL FOR WHO WE FALL FOR
We all wish we could be the kind of person who knows their type and always dates the perfect woman, but sometimes that's just not the case. When Carmen tried to convince Jenny (and herself) that she wasn't the person to date emotionally unavailable players, "The L Word" viewers got one of the best pieces of advice to come from the show: we don't get to choose who we fall for. You may think you want one thing, but you'll eventually find yourself pulled in the opposite direction. The heart wants what it wants, and, if you didn't know, it doesn't tend to consult the brain before making decisions. That's life.
7. IT'S NOT A WOMAN'S JOB TO MAKE MEN BETTER
Men love to lean on women to fix their problems or to swoop in and magically make them a better person. "The L Word" taught us that that just isn't true. Instead of existing only to further the lives of men, the show reminded us that women are badass individuals who are alive to do their own thing, not someone else's. It's not a compliment to be told that you made someone a better person, especially if that's being used as an excuse or presented as the whole reason for the relationship in the first place. Women are intelligent, funny, fully-formed humans on their own who exist for more than the emotional gains of men.
8. SEXUALITY IS FLUID
While there were a few things in the show that didn't age the best, something about sexuality that it taught us is that there's no right way to love. Whether straight, bisexual, gay, or something else, it's all just going with the flow. It may sometimes feel like society places a need on us to label everything or stick to a rigid set of rules to define ourselves, but the truth is that, just like most things in life, sexuality is fluid. Embrace it, because that's what makes it fun!
9. AFTER EVERYTHING, YOUR FRIENDS HAVE YOUR BACK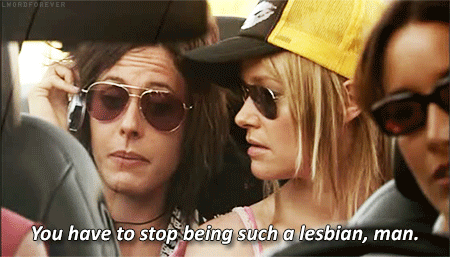 Through the thick and the thin, the good and the bad, your friends are the ones who know how to be there for you. They'll hold your hand when you need it, but they're also not afraid to give you a strong push in the right direction. Friends are more than just companions, too—they're family. The right ones know when to be real with you, and when to tell you to chill out. "The L Word" taught us, above all, that your real friends will be there for you and have your back through the ups and downs of life.