I can't think of a better way to celebrate this glorious weather than to round up 10 of the hottest girl-on-girl sex scenes to ever exist. The scenes that changed your life. The scenes that turned you on. The scenes that made you feel alone AF. The scenes that you wanted to recreate IRL. I'm going to cut this intro short because I know why you clicked on this, you ~naughty pervert~ you. So let me cut to the chase. GIRLS. SEXING. GIRLS.
10. Megan Fox and Amanda Seyfried Swap Spit in Sapphic Sleepover (and Dayna Troisi has way too much fun with alliteration) In Jennifer's Body
"But we always share your bed." Jizz. Megan Fox is quite literally the hottest girl in the world and seeing her ~corrupt~ sweet, beautiful, innocent Amanda Seyfried is the thing my adolescent wet dreams were made of. These are some of the ~hottest~ Sapphic kisses on earth.
9. Natalie Krill and Bathtub Faucet: Name a More Iconic Duo, in Below Her Mouth
I'm calling bullshit– Nobody looks this f*cking hot while masturbating. Most people look down at mobile pornhub with a sweaty double chin, hoping the NSA can't see them (or is that just me?) but my GOD Natalie Krill looks so sexy in this scene.
8. Shane Uses the Strap-On on Cherie Jaffe Poolside in The L Word
Ummm…. this scene always gives me feelings. I think everyone lesbian collectively got wet for this scene. Shane really knows how to work a strap on and Cherie is so sexy. Swoon.
7. Mila Kunis Goes Down on Natalie Portman in Black Swan
The way Mila Kunis' shoulder blade tattoo moves as she goes down on Natalie Portman? BRB, dying. I saw Black Swan in theaters when it came out and that night as my girlfriend and I left, we discovered that her car windows had been shattered, and all our stuff was stolen. While she called the cops and cried over her missing backpack, I smiled into the night air, replaying the sex scene in my head. (I know, I'm selfish AF.) She later broke up with me after I published a review of "Black Swan" in our high school newspaper, saying that I don't care that I got robbed because I got to see Mila Kunis and Natalie Portman have sex. I'm insufferable, I know! But this scene is so goddamn sexy that I'd say it's worth having your text books stolen for.
6.Léa Seydoux and Adèle Exarchopoulos Scissor in Blue is The Warmest Color
I truly don't understand why this scene was called "inauthentic" by so many lesbians. SEX IS DIFFERENT FOR EVERYONE. This is actually v authentic for lots of queer babes. So stop with the scissor shaming cause scissoring is awesome and SO. HOT. This scene is my go-to when I'm feeling ~frustrated.~
5. Sinn Sage and Dani Daniels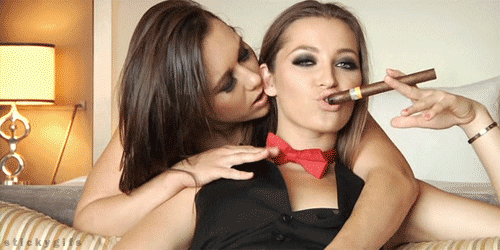 If you don't know who Sinn Sage and Dani Daniels are, look these legendary Sapphic porn stars up immediately. Your pussy will thank you.
4. Kennedy Licks Willow's Neck in Buffy The Vampire Slayer
This was the first lesbian sex scene on broadcast TV. As if that's not iconic enough, Kennedy's tongue is the hottest thing ever. Ugh.
3. Paige Has Perfect Boobs (and sex with Shane) in The L Word
Paige and Shane had palpable chemistry.
2. The Lap Dance Heard Around The World: Carmen Dances for Shane in The L Word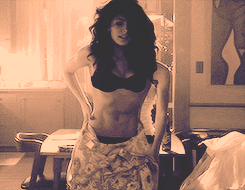 Does this even need a description? You dykes already know what's up.
1. Erika Linder sexes Natalie Krill Below Her Mouth
Okay, the strap-on scene isn't on Youtube but it IS on Netflix and YOU should watch NOW if you haven't seen it. You should watch now even if you have. This is my number one hottest lesbian sex scene because, well, look at them. Their butch/femme dynamic drives me wild and so do strap-ons. You're welcome.